DA Form 3479 Training and Proficiency Record - Air Traffic Controller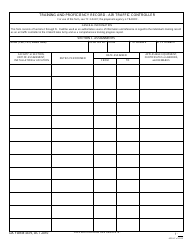 DA Form 3479 - also known as the "Training And Proficiency Record - Air Traffic Controller" - is a Military form issued and used by the United States Department of the Army.
The form - often mistakenly referred to as the DD form 3479 - was last revised on October 1, 2010. Download an up-to-date fillable PDF version of the DA 3479 below or request a copy through the chain of command.
TRAINING AND PROFICIENCY RECORD - AIR TRAFFIC CONTROLLER
For use of this form, see TC 3-04.81; the proponent agency is TRADOC.
GENERAL INFORMATION
This form consists of Sections I through IV. It will be used as an authoritative source of information and reference in regard to the individual's training record
as an air traffic controller in the United States Army and as a comprehensive training progress report.
SECTION I - ASSIGNMENTS
NAME (Last, First, Middle Initial)
ASGD INITIAL
RANK
CTO NUMBER
ATCS NUMBER
FACILITY or SECTION,
APPLICABLE EQUIPMENT,
DATE ASSIGNED
UNIT OF ASSIGNMENT,
CERTIFICATES or AWARDS,
DUTIES PERFORMED
INSTALLATION or LOCATION
and REMARKS
FROM
TO
PREVIOUS EDITIONS ARE OBSOLETE.
DA FORM 3479, OCT 2010
1
-
APD LC v1.01ES
Download DA Form 3479 Training and Proficiency Record - Air Traffic Controller