DA Form 4570-1 Commercial Printing Record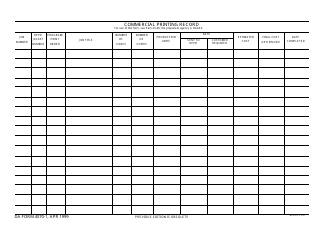 DA Form 4570-1 or the "Commercial Printing Record" is a Department of the Army-issued form used by and within the United States Military.
The form - often incorrectly referred to as the DD form 4570-1 - was last revised on April 1, 1999. Download an up-to-date fillable DA Form 4570-1 down below in PDF-format or look it up on the Army Publishing Directorate website.
COMMERCIAL PRINTING RECORD
For use of this form, see Pam 25-40; the proponent agency is OAASA
DATE
RPPO
PROGRAM/
NUMBER
NUMBER
DATE
JOB
PRODUCTION
ESTIMATED
FINAL COST
JACKET
PRINT
OF
OF
JOB TITLE
SENT TO
CUSTOMER
UNITS
COST
GPO INVOICE
COMPLETED
NUMBER
RPPO
REQUIRED
NUMBER
ORDER
PAGES
COPIES
APD LC v1.01
DA FORM 4570-1, APR 1999
PREVIOUS EDITION IS OBSOLETE