DA Form 4079 Depreciation Expense Control (Furniture Fixtures and Equipment)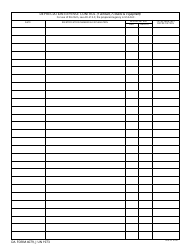 DA Form 4079 - also known as the "Depreciation Expense Control (furniture Fixtures And Equipment)" - is a Military form issued and used by the United States Department of the Army.
The form - often mistakenly referred to as the DD form 4079 - was last revised on June 1, 1973. Download an up-to-date fillable PDF version of the DA 4079 below or request a copy through the chain of command.
DEPRECIATION EXPENSE CONTROL
(Furniture, Fixtures & Equipment)
For use of this form, see AR-215-5; the proponent agency is USAFAC.
DEPRECIATION
TOTAL MONTHLY
DATE
IDENTIFICATION NUMBER & EXPLANATION
DEPRECIATION
ADD
DEDUCT
APD LC v1.00
DA FORM 4079, JUN 1973
Download DA Form 4079 Depreciation Expense Control (Furniture Fixtures and Equipment)