DA Form 3479-9 Atc Maintenance Personnel Certification and Related Training Record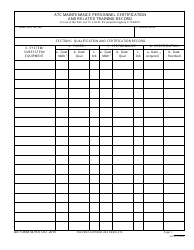 DA Form 3479-9 - also known as the "Atc Maintenance Personnel Certification And Related Training Record" - is a Military form issued and used by the United States Department of the Army.
The form - often mistakenly referred to as the DD form 3479-9 - was last revised on October 1, 2010. Download an up-to-date fillable PDF version of the DA 3479-9 below or request a copy through the chain of command.
ATC MAINTENANCE PERSONNEL CERTIFICATION
AND RELATED TRAINING RECORD
For use of this form, see TC 3-04.81; the proponent agency is TRADOC.
1. NAME (last, first, MI)
2. GRADE/RANK
SECTION I. QUALIFICATION AND CERTIFICATION RECORD
4. THEORY
5. PERFORMANCE
6. CERTIFICATION
3. SYSTEM/
SUBSYSTEM/
a. Qual
b. Date
c.
a. Qual
b. Date
c.
a. Date
b. Date
2
1
1
EQUIPMENT
Meth
Qual
Init
Meth
Qual
Init
Acquired
Revoked
PREVIOUS EDITIONS ARE OBSOLETE.
DA FORM 3479-9, OCT 2010
Page 1 -
APD LC v1.00ES
Download DA Form 3479-9 Atc Maintenance Personnel Certification and Related Training Record