DA Form 7625-1 Army Child and Youth Services Health Screening Tool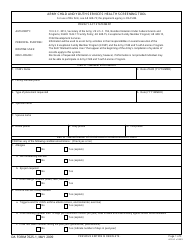 DA Form 7625-1 or the "Army Child And Youth Services Health Screening Tool" is a Department of the Army-issued form used by and within the United States Military.
The form - often incorrectly referred to as the DD form 7625-1 - was last revised on May 1, 2009. Download an up-to-date fillable DA Form 7625-1 down below in PDF-format or look it up on the Army Publishing Directorate website.
ARMY CHILD AND YOUTH SERVICES HEALTH SCREENING TOOL
For use of this form, see AR 608-75; the proponent agency is OACSIM.
PRIVACY ACT STATEMENT
10 U.S.C. 3013, Secretary of the Army; 29 U.S.C. 794, Nondiscrimination Under Federal Grants and
AUTHORITY:
Programs; DoDD 1342.17 Family Policy; AR 608-75, Exceptional Family Member Program; AR 608-10,
Child Development Services.
Information will be used to assist Army activities in their responsibilities in overall execution of the
PRINCIPAL PURPOSE:
Army's Exceptional Family Member Program (EFMP) and the Army Child and Youth Services Program.
The DoD "Blanket Routine Uses" that appear at the beginning of the Army's compilation of systems of
ROUTINE USES:
records apply to this system.
Disclosure of requested information is voluntary; however, if information is not provided individual may
DISCLOSURE:
not be able to participate in Army Child and Youth Services Program.
Part A - General Information
1. Child's Name
2. Date of birth (YYYYMMDD)
3. Family member prefix
4. Type of placement requested
5. Date (YYYYMMDD)
6. Sponsor name
7. Spouse name
8. Home phone
9. Duty phone
10. Cell phone
Part B - Identification of Child/Youth Condition/Restrictions
Child has any of the following conditions/restrictions: (Check yes or no)
1. Allergies
No
Yes (explain)
a. Life threatening reaction
No
Yes (explain)
b. Epi-pen required
No
Yes
c. Other allergic reations (hives, rash, diarrhea)
No
Yes
2. Asthma reactive airway disease
No
Yes (explain)
a. Triggers exist for child's asthma attacks (stress, environmental, exercise)
No
Yes (explain)
b. Child routinely (greater than 10 days per month/four months per year) uses inhaled anti-inflammatory agents and/or bronchodilators
No
Yes (explain)
c. Child has taken steroids during the past year (prednisone, prednisolone)
No
Yes (indicate number of days in past year)
Page 1 of 3
PREVIOUS EDITION IS OBSOLETE.
DA FORM 7625-1, MAY 2009
APD LC v1.00ES
Download DA Form 7625-1 Army Child and Youth Services Health Screening Tool