DA Form 5761-r Family Child Care (Fcc) Risk Assessment Tool Observation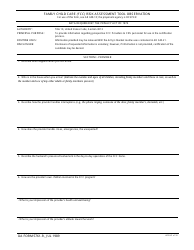 DA Form 5761-r - also known as the "Family Child Care (fcc) Risk Assessment Tool Observation" - is a United States Military form issued by the Department of the Army.
The form - often mistakenly referred to as the DD form 5761-r - was last revised on July 1, 1989. Download an up-to-date fillable PDF version of the DA 5761-r down below or look it up on the Army Publishing Directorate website.
FAMILY CHILD CARE (FCC) RISK ASSESSMENT TOOL OBSERVATION
For use of this form, see AR 608-10; the proponent agency is DCSPER
DATA REQUIRED BY THE PRIVACY ACT OF 1974
Title 10, United States Code, Section 3013
AUTHORITY:
To provide information regarding prospective FCC Providers to CDS personnel for use in the certification
PRINCIPAL PURPOSE:
process.
Information provided may be released IAW the Army's blanket routine uses contained in AR 340-21.
ROUTINE USES:
Disclosure of requested information is voluntary; however, if information is not provided, certification of the
DISCLOSURE:
candidate may be denied.
SECTION I - PROVIDER
1. Describe what happens when you first arrive.
2. Who is in the house when you arrive? (Indicate the number and ages of all children, including family members and those in care, as well as
the number and sex of any other adults or family members present.)
3. Describe how the provider handles interruptions (e.g., the phone ringing, someone at the door, family member's, demands, etc.)
4. How does the provider handle crises, emergencies, the unexpected?
5. Describe the husband's presence/involvement in the day-to-day operations of the FCC home.
6. How are the provider's own children involved in the FCC program?
- What is your impression of the provider's health and well-being?
- What is your impression of the provider's attitude toward her work?
DA FORM 5761-R, JUL 1989
APD LC v1.10
Download DA Form 5761-r Family Child Care (Fcc) Risk Assessment Tool Observation