DA Form 7625-3 Special Needs Accommodation Process (Snap) Team Care Plan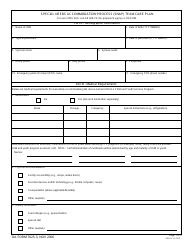 DA Form 7625-3 - also known as the "Special Needs Accommodation Process (snap) Team Care Plan" - is a United States Military form issued by the Department of the Army.
The form - often mistakenly referred to as the DD form 7625-3 - was last revised on November 1, 2006. Download an up-to-date fillable PDF version of the DA 7625-3 down below or look it up on the Army Publishing Directorate website.
SPECIAL NEEDS ACCOMMODATION PROCESS (SNAP) TEAM CARE PLAN
For use of this form, see AR 608-75; the proponent agency is OACSIM.
Part A - Demographic Information
1. Name of child
2. Date of birth (YYYYMMDD)
3. Type of placement
4. Date of placement (YYYYMMDD)
5. Sponsor name
6. Spouse name
7. Home phone
8. Duty phone
9. Cell phone
10. Emergency point of contact (POC) name
11. Emergency POC phone number
Part B - Medical Requirements
Below are medical requirements for reasonably accommodating the above named child in a Child and Youth Services Program.
1. Medications
No
Yes (list each medication separately)
Name
Dosage
Frequency
Special Instructions (e.g., refrigeration)
Individuals authorized to administer medications to child or youth while attending CYS programs (for example, nurse, family child care provider,
child and youth program assistant, self). NOTE: Self administration of medication will be determined by age and maturity of child or youth.
Names:
2. Physical accommodations
Facility accessibility (e.g., ramps; widen doors)
Assistive devices and/or technology (e.g., Braille computer; canes)
Transportation (where applicable/feasible)
Other (explain)
3. Dietary restrictions
Food allergies (e.g., peanut butter)
Special diet
Other (explain)
Page 1 of 3
DA FORM 7625-3, NOV 2006
APD LC v1.01ES
Download DA Form 7625-3 Special Needs Accommodation Process (Snap) Team Care Plan