DA Form 3499 Application for Relief From Court-Martial Findings and/Or Sentence Under the Provisions of Title 10, United States Code, Section 869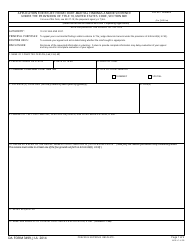 DA Form 3499 - also known as the "Application For Relief From Court-martial Findings And/or Sentence Under The Provisions Of Title 10, United States Code, Section 869" - is a Military form issued and used by the United States Department of the Army.
The form - often mistakenly referred to as the DD form 3499 - was last revised on July 1, 2014. Download an up-to-date fillable PDF version of the DA 3499 below or request a copy through the chain of command.
DOCKET NUMBER
APPLICATION FOR RELIEF FROM COURT-MARTIAL FINDINGS AND/OR SENTENCE
UNDER THE PROVISIONS OF TITLE 10, UNITED STATES CODE, SECTION 869
For use of this form, see AR 27-10; the proponent agency is TJAG.
(For TJAG Use)
(Read Instructions on Reverse BEFORE Completing Application)
DATA REQUIRED BY THE PRIVACY ACT OF 1974
AUTHORITY:
10 USC 869 AND 3037.
PRINCIPAL PURPOSES:
To appeal your court-martial findings and/or sentence to The Judge Advocate General under the provisions of Article 69(b), UCMJ.
ROUTINE USES:
To evaluate your appeal and aid in determining whether the relief sought is appropriate.
DISCLOSURE:
Disclosure of the requested information is voluntary. Failure to provide complete information may delay evaluation of your appeal
and may result in incomplete evaluation of your appeal.
1. NAME OF CONVICTED PERSON (Last, First, MI)
2. PRESENT GRADE OR STATUS
3. DATE OF TRIAL
4. PLACE OF TRIAL
5. COMMAND CONVENING COURT-MARTIAL
6. TYPE OF COURT-MARTIAL
SUMMARY
SPECIAL
7. OFFENSE(S) CHARGED (Article(s) and brief description of offense(s))
8. PLEA(S)
9. FINDINGS OF THE COURT-MARTIAL, SENTENCE ADJUDGED, AND LATER MODIFICATIONS, IF ANY:
10. I BELIEVE RELIEF IN THE ABOVE NAMED COURT-MARTIAL IS JUSTIFIED BECAUSE: (State fully the reasons you believe relief should be granted.
The reasons must relate to at least one of the five grounds set forth in Article 69(b), UCMJ.)
11. RELIEF REQUESTED
12. NAME AND ADDRESS OF COUNSEL ASSISTING WITH APPLICATION, IF ANY: (Include ZIP Code)
PREVIOUS EDITION IS OBSOLETE.
DA FORM 3499, JUL 2014
Page 1 of 2
APD LC v1.00
Download DA Form 3499 Application for Relief From Court-Martial Findings and/Or Sentence Under the Provisions of Title 10, United States Code, Section 869