DA Form 5766 Chaplains' Fund Voucher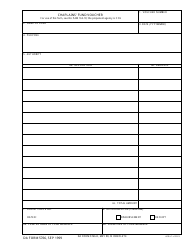 DA Form 5766 or the "Chaplains' Fund Voucher" is a Department of the Army-issued form used by and within the United States Military.
The form - often incorrectly referred to as the DD form 5766 - was last revised on September 1, 1999. Download an up-to-date fillable DA Form 5766 down below in PDF-format or look it up on the Army Publishing Directorate website.
1. VOUCHER NUMBER
CHAPLAINS' FUND VOUCHER
For use of this form, see DA PAM 165-18; the proponent agency is CCH
2. NAME OF FUND
3. DATE (YYYYMMDD)
4. PURPOSE
5. AUTHORITY
6a. DESCRIPTION
6b. AMOUNTS
6c. TOTAL AMOUNT
7. PAID BY CHECK NO:
8. AUTHORIZED FOR (Check one)
DATED:
DISBURSEMENT
RECEIPT
9a. PRINTED NAME OF FUND MANAGER
9b. SIGNATURE OF FUND MANAGER
DA FORM 5766-R, MAY 89, IS OBSOLETE
APD LC v1.01ES
DA FORM 5766, SEP 1999