DA Form 5409 Inoperative Equipment Report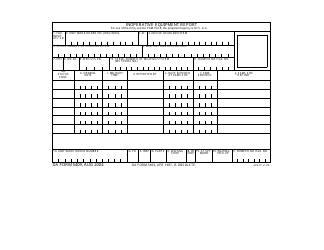 DA Form 5409 - also known as the "Inoperative Equipment Report" - is a United States Military form issued by the Department of the Army.
The form - often mistakenly referred to as the DD form 5409 - was last revised on August 1, 2004. Download an up-to-date fillable PDF version of the DA 5409 down below or look it up on the Army Publishing Directorate website.
INOPERATIVE EQUIPMENT REPORT
For use of this form, see DA PAM 750-8; the proponent agency is DCS, G-4.
1. FILE
2. UNIT WORK ORDER NO. (ORG WON)
3. ID
4. NSN OF DEADLINED ITEM
INPUT
ACT CD
5. SERIAL NUMBER OF DEADLINED ITEM
6. MALFUNCTION DESCRIPTION
7. ERC
8. WS D/L
9. WPN SYS EIC
10. SERIAL NUMBER OF WEAPON SYSTEM
11. BUMPER NO./TAIL NO.
(WS SERIAL NO.)
12a.
b. ORDINAL
c. MILITARY
e. DATE ENTERED
f. TIME
g. SAMS SITE
STATUS
d. REPORTED BY
DATE
TIME
AT SAMS SITE
ENTERED
REP INIT
CODE
13. UNIT WORK ORDER NUMBER
14. PD
15. INSP 16. PARTS 17. WAITING
18. IN
19. AT SPT
20. WAITING
21. BUMPER NO./TAIL NO.
SHOP
SHOP
MAINT.
PICK UP
DA FORM 5409, APR 1987, IS OBSOLETE.
DA FORM 5409, AUG 2004
APD LC v1.00