DA Form 4998-r Quality Control and Surveillance Record for Toe Medical Assemblage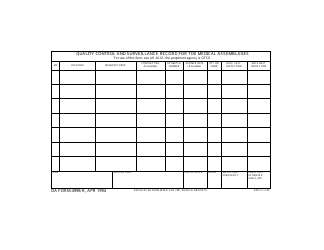 DA Form 4998-r or the "Quality Control And Surveillance Record For Toe Medical Assemblage" is a Department of the Army-issued form used by and within the United States Military.
The form - often incorrectly referred to as the DD form 4998-r - was last revised on April 1, 1994. Download an up-to-date fillable DA Form 4998-r down below in PDF-format or look it up on the Army Publishing Directorate website.
QUALITY CONTROL AND SURVEILLANCE RECORD FOR TOE MEDICAL ASSEMBLAGES
For use of this form, see AR 40-61; the proponent agency is OTSG
CONTRACT NO.
LOT/BATCH
EXP/MFR DATE
QTY ON
DATE LAST
DATE NEXT
NO
LOCATION
MANUFACTURER
(If available)
NUMBER
(If available)
HAND
INSPECTION
INSPECTION
NSN
DESCRIPTION
UNIT OF ISSUE
NOTES
INSPECTION
SHELF LIFE/
FREQUENCY
ESTIMATED
SHELF LIFE
DA FORM 4998-R, APR 1994
REPLACES DA FORM 4998-R, AUG 1981, WHICH IS OBSOLETE
APD LC v1.00
Download DA Form 4998-r Quality Control and Surveillance Record for Toe Medical Assemblage