DA Form 4160 Patient's Personal Effects and Clothing Record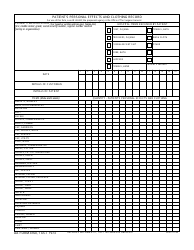 DA Form 4160 - also known as the "Patient's Personal Effects And Clothing Record" - is a United States Military form issued by the Department of the Army.
The form - often mistakenly referred to as the DD form 4160 - was last revised on October 1, 1973. Download an up-to-date fillable PDF version of the DA 4160 down below or look it up on the Army Publishing Directorate website.
PATIENT'S PERSONAL EFFECTS AND CLOTHING RECORD
For use of this form, see AR 40-400; the proponent agency is the Office of The Surgeon General.
PATIENT'S IDENTIFICATION (For typed or written entries give: Name-last,
HOSPITAL ITEMS RECEIVED BY PATIENT
first, middle initial; grade; social security number, register number medical
facility or organization)
COAT, PAJAMA
TOWELS, BATH
TROUSERS, PAJAMA
WASH CLOTH
CONVALESCENT SUIT
OTHER
ROBE, BATH
SLIPPERS
PATIENT'S INITIALS
TOWELS, HAND
1
2
3
4
5
6
7
8
9
10
11
12
13
14
15
DATE
INITIALS OF CUSTODIAN
INITIALS OF PATIENT
ITEMS (Male and Female)
QUANTITY - PATIENT'S PERSONAL EFFECTS AND CLOTHING
ANKLETS, WOMEN'S
BAGS, DUFFEL/BARRACKS
BATHROBE
BELT
BUCKLE
BLOUSE, SUMMER/WINTER
BOOTS, COMBAT
CAP, GARRISON
CAP, NURSES, WHITE
CAP, SERVICE
CAP, UTILITY
COAT, WOOL
DRAWERS, SUMMER/WINTER
DRESS, COTTON
GLOVES, PR. COTTON/LEATHER
GLOVES, INSERT
GLOVES, SHELL
HANDBAG, LEATHER
HANDKERCHIEFS
HAT, SERVICE
INSIGNIA, CAP/HAT
INSIGNIA, COLLAR, SHOULDER
JACKET, UTILITY
JACKET, FIELD
JACKET, WOOL
NECKTIE
NIGHTGOWNS
OVERCOAT
OVERSHOES/RUBBERS
PAJAMAS
PONCHO
PANTIES, WOMEN
RAINCOAT
SCARF
SHIRT
SHIRTWAIST, WOMEN
DA FORM 4160, 1 OCT 1973
APD LC v1.00
REPLACES DA FORM 8-111, 1 OCT 1957 WHICH IS OBSOLETE
Download DA Form 4160 Patient's Personal Effects and Clothing Record