DA Form 4237-R Detainee Personnel Record (Lra)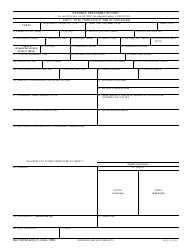 DA Form 4237-R or the "Detainee Personnel Record (lra)" is a Department of the Army-issued form used by and within the United States Military.
The form - often incorrectly referred to as the DD form 4237-R - was last revised on August 1, 1985. Download an up-to-date fillable DA Form 4237-R down below in PDF-format or look it up on the Army Publishing Directorate website.
DETAINEE PERSONNEL RECORD
For use of this form, see AR 190-8; the proponent agency is ODCSCPER.
PART I - TO BE COMPLETED AT TIME OF PROCESSING
1. INTERNMENT SERIAL NO. (1-13)
2. NAME (Last, first, middle) (14-34)
3. RANK (35-37)
CARD I
4. ENEMY SVC NO. (38-46)
5. TYPE (47)
6. DATE OF CAPTURE (48-53)
7. DATE OF BIRTH (54-59)
8. NATIONALITY (60-61)
9. EDUCATION (62)
10. RELIGION (63-64)
11. MARSTA (65)
12. PW CAMP UIC
(66-71)
13. PW PROCESS DATE
(72-77)
CARD II
14. SEX (14)
15. LANGUAGE I (15-16)
16. LANGUAGE II (17-18)
(Keypuncher will pick
up Item 1 above)
17. PHYSICAL CONDITION (19)
18. PW CAMP LOCATION (20-22)
19. ENEMY UNIT (23-34)
20. ARM OF SVC (35)
21. MOSC (36-39)
22. CIVILIAN OCCUPATION (40-45)
23. UIC-CAPTURE UNIT (46-51)
24. CORPS AREA OF CAPTURE (52)
25. PLACE OF CAPTURE
26. POWER SERVED
27. PLACE OF BIRTH
28. ADDRESS TO WHICH MAIL FOR PW MAY BE SENT
29. FATHER/STEPFATHER
30. MOTHER'S MAIDEN NAME
32. NAME, ADDRESS, AND RELATIONSHIP OF PERSON TO BE
31. PERMANENT HOME ADDRESS OF PW
INFORMED OF CAPTURE
33. OTHER PARTICULARS FROM ID CARD
34. DISTINGUISHING MARKS
35. IMPOUNDED PERSONAL EFFECTS AND MONEY (IAW AR 37-36)
THE ABOVE LIST OF IMPOUNDED ITEMS IS CORRECT
(Signature of Detainee)
36. REMARKS
37. PHOTO
PHOTO
PHOTO
(Front View)
(Right Profile)
38. PREPARED BY (Individual and unit)
39. SIGNATURE
40. DATE PREPARED
41. PLACE
DA FORM 4237-R, AUG 1985
APD LC v1.01ES
EDITION OF MAY 82 IS OBSOLETE