DA Form 5965 Basis of Issue for Clothing and Individual Equipment (Cie)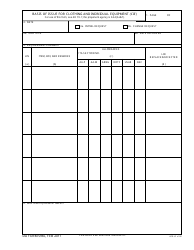 DA Form 5965 - also known as the "Basis Of Issue For Clothing And Individual Equipment (cie)" - is a Military form issued and used by the United States Department of the Army.
The form - often mistakenly referred to as the DD form 5965 - was last revised on February 1, 2011. Download an up-to-date fillable PDF version of the DA 5965 below or request a copy through the chain of command.
BASIS OF ISSUE FOR CLOTHING AND INDIVIDUAL EQUIPMENT (CIE)
1. PAGE
OF
For use of this form, see AR 70-1; the proponent agency is ASA(AL&T).
2. DATE
3a. INITIAL REQUEST
3b. CHANGE REQUEST
4a. ORD TITLE
4b. DATE APPROVED
5. REQUIREMENT/CHANGES
ALLOWANCES
CTA SECTION NO.
LIN
LIN
ITEM, BOI, AND REMARKS
(c )
REPLACED/AFFECTED
AA-P
AA-M
ARNG
ROTC
USAR
DAC
(a )
(d )
(b)
6. MOS AND EQUIPMENT IMPACT
DA FORM 5965, FEB 2011
PREVIOUS EDITIONS ARE OBSOLETE.
APD LC v1.00
Download DA Form 5965 Basis of Issue for Clothing and Individual Equipment (Cie)