DA Form 4316-1 Application for Army Flying Activity Aircraft Insurance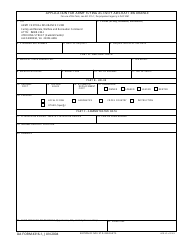 DA Form 4316-1 or the "Application For Army Flying Activity Aircraft Insurance" is a Department of the Army-issued form used by and within the United States Military.
The form - often incorrectly referred to as the DD form 4316-1 - was last revised on June 1, 2004. Download an up-to-date fillable DA Form 4316-1 down below in PDF-format or look it up on the Army Publishing Directorate website.
APPLICATION FOR ARMY FLYING ACTIVITY AIRCRAFT INSURANCE
For use of this form, see AR 215-1; the proponent agency is OACSIM
TO:
FROM:
1.
2.
(Activity, installation, and address)
ARMY CENTRAL INSURANCE FUND
Family and Morale, Welfare and Recreation Command
ATTN: IMWR-FM-I
4700 KING STREET (Summit Centre)
ALEXANDRIA, VA 22302-4406
3. STANDARD NAF NUMBER
4. DATE OF REQUEST
5. REQUESTED EFFECTIVE DATE
PART A - AIRCRAFT DATA
6. MANUFACTURER & MODEL NO.
7. SERIAL NO.
8. IDENTIFICATION NO.
9. MODEL YEAR
10. NO. OF ENGINES
11. NO. OF SEATS
PART B - VALUE
12. ORIGINAL
13. PRESENT
14. ESTIMATED
15. OWNERSHIP
COST
VALUE
REPLACEMENT
COST
OWNED
LOANED
LEASED
RENTED
16. PURPOSE
LOCAL FLYING
AEROBATICS
CROSS COUNTRY
INSTRUCTION
OTHER (Specify)
PART C - ADMINISTRATIVE DATA
17. IF LEASED OR RENTED - IDENTIFY LESSOR OR RENTER
18. LIEN OR LOAN HOLDER
19. NORMAL AIRCRAFT LOCATION
20. REMARKS
21. FUND MANAGER OR DESIGNEE (Typed name, title, and telephone number)
22. SIGNATURE
DA FORM 4316-1, JUN 2004
EDITION OF NOV 97 IS OBSOLETE.
APD LC v1.01ES
Download DA Form 4316-1 Application for Army Flying Activity Aircraft Insurance