DA Form 3137 Abstract of Enlisted and Organizational Laundry and Dry Cleaning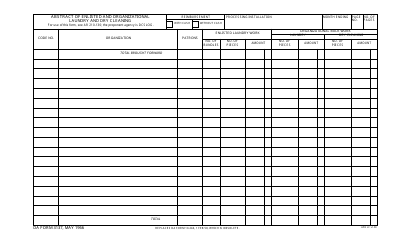 DA Form 3137 - also known as the "Abstract Of Enlisted And Organizational Laundry And Dry Cleaning" - is a Military form issued and used by the United States Department of the Army.
The form - often mistakenly referred to as the DD form 3137 - was last revised on May 1, 1966. Download an up-to-date fillable PDF version of the DA 3137 below or request a copy through the chain of command.
REIMBURSEMENT
ABSTRACT OF ENLISTED AND ORGANIZATIONAL
PROCESSING INSTALLATION
MONTH ENDING
PAGE
NO. OF
NO.
PAGES
LAUNDRY AND DRY CLEANING
WITH CASH
WITHOUT CASH
For use of this form, see AR 210-130; the proponent agency is DCSLOG.
ORGANIZATIONAL BULK WORK
ENLISTED LAUNDRY WORK
LAUNDRY
DRY CLEANING
CODE NO.
ORGANIZATION
PATRONS
NO. OF
NO. OF
NO. OF
NO. OF
AMOUNT
AMOUNT
AMOUNT
BUNDLES
PIECES
PIECES
PIECES
TOTAL BROUGHT FORWARD
TOTAL
DA FORM 3137, MAY 1966
REPLACES DA FORM 10-244, 1 FEB 58, WHICH IS OBSOLETE.
APD LC v1.00
Download DA Form 3137 Abstract of Enlisted and Organizational Laundry and Dry Cleaning