DA Form 5440-9 Delineation of Clinical Privileges-Podiatry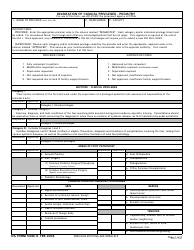 DA Form 5440-9 - also known as the "Delineation Of Clinical Privileges-podiatry" - is a United States Military form issued by the Department of the Army.
The form - often mistakenly referred to as the DD form 5440-9 - was last revised on February 1, 2004. Download an up-to-date PDF version of the DA 5440-9 down below or look it up on the Army Publishing Directorate website.
DELINEATION OF CLINICAL PRIVILEGES - PODIATRY
For use of this form, see AR 40-68; the proponent agency is OTSG.
1. NAME OF PROVIDER
2. RANK/GRADE
3. FACILITY
(Last, First, MI)
INSTRUCTIONS:
PROVIDER: Enter the appropriate provider code in the column marked "REQUESTED". Each category and/or individual privilege listed must
be coded. For procedures listed, line through and initial any criteria/applications that do not apply. Your signature is required at the end of
Section I. Once approved, any revisions or corrections to this list of privileges will require you to submit a new DA Form 5440.
SUPERVISOR: Review each category and/or individual privilege coded by the provider and enter the appropriate approval code in the
column marked "APPROVED". This serves as your recommendation to the commander who is the approval authority. Your overall
recommendation and signature are required in Section II of this form.
PROVIDER CODES
SUPERVISOR CODES
1 - Fully competent to perform
1 - Approved as fully competent
2 - Modification requested
2 - Modification required
(Justification attached)
(Justification noted)
3 - Supervision requested
3 - Supervision required
4 - Not requested due to lack of expertise
4 - Not approved, insufficient expertise
5 - Not requested due to lack of facility support/mission
5 - Not approved, insufficient facility support/mission
SECTION I - CLINICAL PRIVILEGES
Category I.
Treat routine conditions of the foot and work under the supervision of a privileged podiatrist who assumes full responsibility of the
provider's acts.
Requested Approved
Category I clinical privileges
Category II. Includes Category I.
Examine, diagnose, and treat conditions of the feet requiring skills acquired during post-residency specialty training. Consultations should
be used when there is doubt concerning the diagnosis or when there is evidence of systemic disease, as first manifested by pedal symptoms.
Requested Approved
Category II clinical privileges
Category III. Includes Categories I and II.
Includes Categories I and II. Board certified or eligible. Prevention, diagnosis and treatment of complications involving the foot, arising from
various systemic diseases, as well as the palliative and corrective treatment of local foot pathology.
Requested Approved
Category III clinical privileges
AREAS OF FOOT PATHOLOGY
Requested Approved
Requested Approved
a. General Practice
d. Foot Orthopedics
b. Foot Surgery
e. Podopediatrics
(1) Common Podiatric Surgical Procedures
f. Podogeriatrics
(Specify in list which follows)
g. X-Ray Services (Interpretation)
(2) Complex Reconstructive Surgery
(Specify in list which follows)
c. Podiatric Dermatology
COMMON PODIATRIC SURGICAL PROCEDURES
Requested Approved
SKIN
NERVES
a. Decompression (posterior tibial nerve)
a. Digital syndactylism
tarsal tunnel
b. Excision of cutaneous lesions, benign
b. Decompression sinus tarsi
c. Excision of soft tissue lesions, cysts
c. Excision of neuroma
d. Grafts (simple, rotational, pedicle flap)
e. Plastic revisions (forefoot)
TENDONS
f. Removal of foreign body
a. Capsulotomy, midfoot with or without
g. Toenail procedures
tendon lengthening
b. Excision of cyst, (extra or intra-
tendonous), foot
c. Percutaneous Achilles lengthening
DA FORM 5440-9, FEB 2004
PREVIOUS EDITIONS ARE OBSOLETE
Page 1 of 3
APD V1.00
Download DA Form 5440-9 Delineation of Clinical Privileges-Podiatry