DA Form 5072 Emergency Action Statement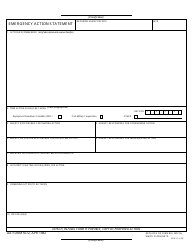 DA Form 5072 or the "Emergency Action Statement" is a Department of the Army-issued form used by and within the United States Military.
The form - often incorrectly referred to as the DD form 5072 - was last revised on April 1, 1982. Download an up-to-date fillable DA Form 5072 down below in PDF-format or look it up on the Army Publishing Directorate website.
(Classification)
PREPARING AGENCY/OFFICE
DATE
EMERGENCY ACTION STATEMENT
1. ACTION RECOMMENDED (Brief description and reasons therefor)
2. TIME ACTION SHOULD BE TAKEN (Check as appropriate)
1
2
3
4
DEFCON
Deployment Readiness Condition (DRC)
Civil-Military Cooperation
OTHER
3. AGENCY RESPONSIBLE FOR INIATING ACTION
4. AGENCY RESPONSIBLE FOR FORWARDING ACTION
5. AGENCY OR PERSON RESPONSIBLE FOR APPROVING ACTION
6. AGENCY RESPONSIBLE FOR IMPLEMENTING ACTION
7. AGENCIES WITH WHICH ACTION HAS BEEN COORDINATED
8. AUTHORITY EXISTING OR REQUIRED FOR ACTION
9. REMAINING ACTION TO BE TAKEN
10. INCLOSURE(S)
ATTACH, IN FINAL FORM IF POSSIBLE, COPY OF PROPOSED ACTION
DA FORM 5072, APR 1982
REPLACES DD FORM 855, NOV 56,
WHICH IS OBSOLETE.
APD LC v1.00
(Classification)