DA Form 7214 Applicant Acknowledgement of Employer Obligation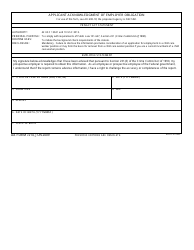 DA Form 7214 or the "Applicant Acknowledgement Of Employer Obligation" is a Department of the Army-issued form used by and within the United States Military.
The form - often incorrectly referred to as the DD form 7214 - was last revised on June 1, 2009. Download an up-to-date fillable DA Form 7214 down below in PDF-format or look it up on the Army Publishing Directorate website.
APPLICANT ACKNOWLEDGMENT OF EMPLOYER OBLIGATION
For use of this form, see AR 608-18; the proponent agency is OACSIM.
PRIVACY ACT STATEMENT
AUTHORITY:
42 USC 13041 and 10 USC 3013.
PRINCIPAL PURPOSE:
To comply with requirements of Public Law 101-647, Section 231 (Crime Control Act of 1990).
ROUTINE USES:
To initiate the background check requirements of the statute.
DISCLOSURE:
Mandatory. Failure to disclose the information precludes consideration of an application for employment in a child care
worker position or may form the basis for removal from a child care worker position if you are a current incumbent of a child
care worker position.
EMPLOYEE STATEMENT
My signature below acknowledges that I have been advised that pursuant to Section 231(d) of the Crime Control Act of 1990, my
prospective employer is required to obtain this information. As an employee or prospective employee of the Federal government,
I understand that if the report contains adverse information, I have a right to challenge the accuracy or completeness of the report.
1. TYPED OR PRINTED NAME (Last, First, MI)
2. DATE (YYYYMMDD )
3. SIGNATURE
4. NEE
5. ALIASES
6. DATE OF BIRTH (YYYYMMDD )
7. PLACE OF BIRTH
DA FORM 7214, JUN 2009
PREVIOUS EDITIONS ARE OBSOLETE.
APD LC v1.00ES
Download DA Form 7214 Applicant Acknowledgement of Employer Obligation