DA Form 2662-R United States Army Epw Identity Card (Lra)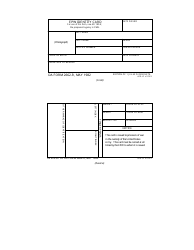 DA Form 2662-R - also known as the "United States Army Epw Identity Card (lra)" - is a United States Military form issued by the Department of the Army.
The form - often mistakenly referred to as the DD form 2662-R - was last revised on May 1, 1982. Download an up-to-date fillable PDF version of the DA 2662-R down below or look it up on the Army Publishing Directorate website.
DATE ISSUED
EPW IDENTITY CARD
For use of this form, see AR 190-8;
the proponent agency is PMG.
LAST NAME
FIRST NAME
GRADE
(Photograph)
SERVICE NUMBER
POWER SERVED
PLACE OF BIRTH
DATE OF BIRTH
SIGNATURE OF BEARER
DA FORM 2662-R, MAY 1982
EDITION OF 1 JUL 63 IS OBSOLETE.
APD LC v1.01ES
(Front)
WEIGHT
COLOR OF EYES
HEIGHT
COLOR OF HAIR
BLOOD TYPE
RELIGION
NOTICE
This card is issued to prisoners of war
in the custody of the United States
Army. This card must be carried at all
times by the EPW to whom it is issued.
REVERSE OF DA FORM 2662-R, MAY 1982
APD LC v1.01ES
(Reverse)
Download DA Form 2662-R United States Army Epw Identity Card (Lra)