DA Form 7736 Marksman/Observer Individual Observation Log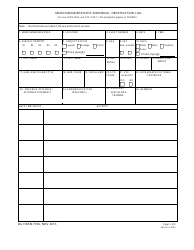 DA Form 7736 - also known as the "Marksman/observer Individual Observation Log" - is a United States Military form issued by the Department of the Army.
The form - often mistakenly referred to as the DD form 7736 - was last revised on November 1, 2013. Download an up-to-date PDF version of the DA 7736 down below or look it up on the Army Publishing Directorate website.
MARKSMAN/OBSERVER INDIVIDUAL OBSERVATION LOG
For use of this form, see ATP 3-39.11; the proponent agency is TRADOC.
Note. The Information recorded in this law enforcement sensitve.
1. MARKSMAN/OBSERVER
2. LOCATION
3. SHEET NUMBER
4. DATE
5. TIME
10. RACE
6. SUBJECT PRIORITY
7. SUBJECT STATUS
8. AGE
9. SEX
#1
#2
#3
#4
#5
Suspect
Hostage
Victim
Male Female
White
Black
Hispanic
Asian
OTHER
(Specify):
OTHER
(Specify):
13. MID
11. LAST NAME
12. FIRST NAME
14. HEIGHT
15. WEIGHT 16. IDENITFYING
MARKS
INITIAL
21. EYE-
20. EYE-
22. APPEARANCE/CLOTHING/
17. HAIR LENGTH AND STYLE
18. HAIR COLOR
19. FACIAL HAIR
COLOR
GLASSES
FOOTWEAR
YES
NO
25. RELEVANT
23. PREVIOUS OFFENSES/
26. REMARKS
24. KNOWN/SUSPECTED
SPECIALIZED
ACTIONS/STATEMENTS
WEAPON(S)
TRAINING
DATE-TIME GROUP
ACTIVITY
DA FORM 7736, NOV 2013
Page 1 of 2
APD PE v1.00ES
Download DA Form 7736 Marksman/Observer Individual Observation Log