DA Form 4881-6 Request and Approval for Loan or Lease of Equipment and Loan or Lease Agreement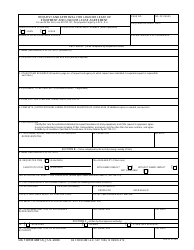 DA Form 4881-6 or the "Request And Approval For Loan Or Lease Of Equipment And Loan Or Lease Agreement" is a Department of the Army-issued form used by and within the United States Military.
The form - often incorrectly referred to as the DD form 4881-6 - was last revised on July 1, 2004. Download an up-to-date fillable DA Form 4881-6 down below in PDF-format or look it up on the Army Publishing Directorate website.
PAGE NO.
NO. OF PAGES
REQUEST AND APPROVAL FOR LOAN OR LEASE OF
EQUIPMENT AND LOAN OR LEASE AGREEMENT
For use of this form, see AR 700-131; the proponent agency is DCS, G-4.
REQUIRED DELIVERY DATE
LOAN OR LEASE (Check one)
LOAN/LEASE AGREEMENT NUMBER (When Approved)
[
]
[
]
LOAN
LEASE
ADDRESS OF ACCOUNTABLE OFFICER
EXPIRATION DATE OF LOAN/LEASE
SECTION A
- (To be completed by Requester/Lessee)
1. NAME AND ADDRESS OF ACTIVITY (Include UIC)
2. ITEM DESCRIPTION (Include LIN and NSN and Quantity Required)
3. OTHER ITEMS REQUIRED (Show item, page no. of request and agency to which request was submitted. A separate request is required for
each item.)
4. EQUIPMENT TO BE SHIPPED TO (include DODAAC, if applicable)
5. FUND CITE FOR PC&H AND TRANSPORTATION COSTS
6. COMPLETE JUSTIFICATION INCLUDING PROPOSED DURATION OF LOAN/LEASE (If additional space is needed, use reverse)
7. CERTIFICATION
I certify that I am the authorized individual to request loan/lease of Army equipment, and if this request is approved, agree
to pay all authorized charges including PC&H, transportation, and repair costs for other than fair wear and tear, and agree
to abide by all conditions specified for Loan/Lease of Army materiel by AR 700-131.
8. TYPED NAME, GRADE, AND TITLE OF AUTHORIZED
8a. SIGNATURE
8b. DATE
REPRESENTATIVE
SECTION B
- (To be completed by the activity having custody of item)
9. NAME AND ADDRESS OF ACTIVITY
[
]
10. REQUESTED ITEM
(Enter NSN)
10a. AVAILABILITY (Check one)
[
]
[
]
[
]
SUBSTITUTE ITEM
(Enter NSN)
WITH DAMPL IMPACT
WITHOUT DAMPL IMPACT
[
]
NOT AVAILABLE
10b. APPROVAL AUTHORITY FOR LOAN/LEASE (Based upon above data and Table 2-1, AR 700-131)
11. FOR LOANS/LEASES WITH DAMPL IMPACT (Provide the following information to HQDA)
11a. AUTHORIZED
ON HAND (Worldwide)
QTY D/I PER MONTH
PRODUCED
OVERHAULED
11b. QTY O/H CONUS DEPOT BY PURPOSE CODE
11c. QTY BACKORDERED BY MACOM
11d. IMPACT OF LOAN/LEASE APPROVAL AND ACTIVITY RECOMMENDATION
12. TYPED NAME AND TITLE OF AUTHORIZED
12a. SIGNATURE
12b. DATE
REPRESENTATIVE
SECTION C
- (Action by final approval authority)
[
]
[ ]
[ ]
13.
APPROVED
DENIED
OTHER (SEE REVERSE)
14. TYPED NAME AND TITLE OF APPROVING
14a. SIGNATURE
14b. DATE
AUTHORITY
DA FORM 4881-6, JUL 2004
DA FORM 4881-6-R, SEP 1984, IS OBSOLETE.
APD LC v1.10ES
Download DA Form 4881-6 Request and Approval for Loan or Lease of Equipment and Loan or Lease Agreement