DA Form 7351 Exceptional Family Member Program (EFMP) Assessment Guide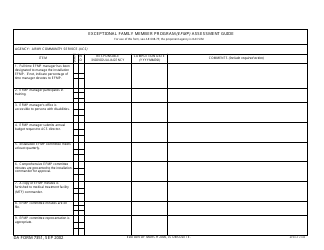 DA Form 7351 or the "Exceptional Family Member Program (efmp) Assessment Guide" is a Department of the Army-issued form used by and within the United States Military.
The form - often incorrectly referred to as the DD form 7351 - was last revised on September 1, 2002. Download an up-to-date fillable DA Form 7351 down below in PDF-format or look it up on the Army Publishing Directorate website.
EXCEPTIONAL FAMILY MEMBER PROGRAM (EFMP) ASSESSMENT GUIDE
For use of this form, see AR 608-75; the proponent agency is OACSIM
AGENCY: ARMY COMMUNITY SERVICE (ACS)
Y
RESPONSIBLE
COMPLETION DATE
N
ITEM
E
COMMENTS (Include required action)
O
INDIVIDUAL/AGENCY
(YYYYMMDD)
S
1. Full time EFMP manager has been
designated to manage the installation
EFMP. If not, indicate percentage of
time manager devotes to EFMP.
2. EFMP manager participates in
training.
3. EFMP manager's office is
accessible to persons with disabilities.
4. EFMP manager submits annual
budget request to ACS director.
5. Installation EFMP committee meets
at least quarterly.
6. Comprehensive EFMP committee
minutes are presented to the installation
commander for approval.
7. A copy of EFMP minutes is
furnished to medical treatment facility
(MTF) commander.
8. EFMP committee minutes are on
file.
9. EFMP committee representation is
appropriate.
EDITION OF MARCH 2000, IS OBSOLETE.
DA FORM 7351, SEP 2002
APD LC v1.00
Download DA Form 7351 Exceptional Family Member Program (EFMP) Assessment Guide