DD Form 1056 Authorization to Apply for "no-Fee" Passport and/Or Request for Visa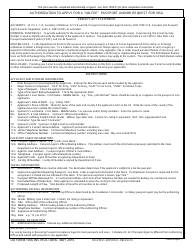 What Is DD Form 1056?
DD Form 1056, Application to Apply for a No-Fee Passport and/or Request for Visa is a form issued by and used within the U.S. Department of Defense. The document is used by qualifying military and government officials to apply for No-Fee passports when traveling for government purposes.
The latest version of the form was issued in May 2016 and is still in use today. An up-to-date DD Form 1056 fillable version is available for download or electronic filing below.
The main aim of the DD 1056 Form - often incorrectly referred to as the DA Form 1056 - is to provide all the information necessary for the initiation of a No-Fee passport or foreign visa. 
What Is a No-Fee Passport?
The official military passport is issued at no costs and is usually referred to as No-Fee passport.
This type of passport can be requested by the members of the United States military or government officials, in cases when they need to travel abroad for official government-related purposes.
This form must be completed electronically or typed. See DoD 1000.21 for form completion instructions.
AUTHORIZATION TO APPLY FOR A "NO-FEE" PASSPORT AND/OR REQUEST FOR VISA
PRIVACY ACT STATEMENT
AUTHORITY: 10 U.S.C. 113, Secretary of Defense; 32 CFR part 46, Passport and Passport Agent Services; DoD 1000.21-R, Passport and Passport
Agent Services Regulation; and E.E. 9397 (SSN), as amended.
PRINCIPAL PURPOSE(S): To provide authority for the issuance of a "No-fee" passport and/or foreign visa(s). In processing, the Social Security
Number is used to identify and verify the identity of the applicant or sponsor. The applicable system of record notice is A0 1000.21 OAA DoD, Visa
Passport Automated System (VPAS), and can be found at:
ROUTINE USES: To the Department of State for the issuance of a no-fee passport, a Status of Forces Agreement (SOFA) stamp, or to foreign
embassies to obtain a foreign entry visa. To a Federal, State, local government or foreign agency as a routine use in response to such an agency's
request for information arising by general statute or particular program statute, or by regulation, rule or order issued pursuant thereto, if necessary, and
only to the extent necessary, to enable such agency to discharge its responsibilities of enforcing or implementing the statute. The DoD Blanket Routine
Uses set forth at the beginning of the Army's compilation of systems of records notices may apply to this system. The complete list of DoD blanket routine
uses can be found online at http://dpcld.defense.gov/Privacy/SORNsIndex/BlanketRoutineUses.aspx.
DISCLOSURE: Providing your Social Security Number and other information on this form is voluntary, but failure to provide your Social Security Number
or other information requested on this form may result in processing delays or denial of your application.
INSTRUCTIONS
APPLICANT AND SPONSOR INFORMATION:
1.
Date Passport or Visa Required by Applicant. Indicate the date the passport will be needed by the applicant.
2.
Major Service Component. "USA" for Army, "USN" for Navy, "USAF" for Air Force, "USMC" for Marine Corps.
3.
Type of Request. Check the appropriate block.
4.
Type of Passport Being Requested. Check the appropriate block.
5.
Applicant's Last Name – First Name – Middle Name. e.g. "Doe, John Michael". Name should be exactly as it appears on the passport or visa
application.
6.
Applicant's Date of Birth. e.g. "6 May 1965"
7.
Applicant's Place of Birth. Write the name of the state and country if the applicant is born in the US. Write the name of the country if the
applicant was born outside the United States.
8.a.
Sponsor's Last Name - First Name - Middle Name. For spouses and/or family members. Enter the sponsor's name.
8.b.
Sponsor's E-mail Address.
Sponsor's official email address.
9.
Sponsor's Military Rank/Civilian Grade. Military: type letter rank. Civilian: GS rating or equivalent. NAF: Non- Appropriated Fund.
Contractor: Type the word "Contractor".
10.
Sponsor's SSN. Sponsor's 9-digit Social Security Number.
11.a. Applicant's Current Home Address. Applicant's permanent residence.
11.b. Home Telephone Number. Commercial telephone number, including area code.
11.c. Office Telephone Number. Commercial telephone number, including area code. May also include DSN.
PASSPORT AGENT INFORMATION:
12.a. Passport Agent's Name. e.g. "Smith, Anna Marie"
12.b. Mailing Address. Passport Agent's Official Mailing Address. This address must match the information previously submitted to the State
Department as the passport agent's official mailing address.
12.c. Agent E-mail Address. Passport Agent's Official E-mail Address.
12.d. Telephone. Passport agent's official telephone number.
12.e. Agent ID Code. Agent ID Number assigned by Department of State.
12.f. Facility ID Number. Facility ID Number assigned by Department of State.
TRAVEL INFORMATION:
13.
Destination. Destination must be indicated. The destination determines if the applicant is entitled to a No-fee passport.
14.
Special Assignment Requiring Passport. See Note. Enter assignment information in this block. If a Diplomatic Passport is requested for this
assignment, it should also be indicated in this block. If no special assignment is known, type "N/A."
15.
Passport Will Be Returned To. A Commercial Address and Commercial Telephone Number are needed for delivery via commercial carriers.
16.
Estimated Date of Departure. Date applicant is scheduled to leave the country for the assignment indicated.
17.
Proposed Length of Stay. Total duration of travel for all countries to be visited.
AUTHORIZING OFFICIAL INFORMATION:
18.a. Authorizing Official Name. Authorizing Official is determined by the Installation Commander. A military passport agent may be the authorizing
official.
18.b. Grade. Military: type 3 letter rank. Civilian: GS rating or equivalent.
18.c. Title. Official title of the Authorizing Official.
18.d. Mailing Address. Official mailing address of the Authorizing Official.
18.e. Telephone Number. Commercial telephone number of the Authorizing Official.
18.f. Signature of Authorizing Official..
18.g. Date. e.g. "12 Jan 2013."
ADDITIONAL INFORMATION:
19.
Additional Information. Indicate any additional information here.
SUSPENSE CONTROL:
For use by Issuing or Receiving Passport Acceptance Agent to track passports and visas. Complete 20- 22 if Passport Agent is different from Authorizing
Official and submit with passport or visa application.
DD FORM 1056 INSTRUCTIONS, MAY 2016
PREVIOUS EDITION IS OBSOLETE.
Adobe Designer 11
Download DD Form 1056 Authorization to Apply for "no-Fee" Passport and/Or Request for Visa
DD Form 1056 Instructions
The first page of the Form DD 1056 includes the official DoD-issued filing instructions. A detailed step-by-step description of all the sections and boxes of the form is available below.
How to Fill Out DD Form 1056?
The passport form DD 1056 must me digitally filed - handwritten copies are not accepted. Download the form on to your desktop or mobile device and fill it in using Adobe Acrobat Reader or any other PDF-viewing software.
Begin by indicating the date by which you will require your visa or passport.
The second box is used for providing the name of service or group that makes you qualified for the fee waiver.
Mark the type of request and the passport you are requesting in Boxes 3 and 4 correspondingly.
Boxes 5, 6 and 7 require the applicant's full information: their name and their date and place of birth.
If the passport is requested by spouses or family members, they will need to indicate the data about their sponsor in Boxes 8 through 10.
Box 11 is for providing the home address of the applicant, their home and office telephone numbers.
The information about the passport agent should be typed in Box 12. Enter the agent's name, address, phone number, and email address.
Boxes 13 through 17 are for providing travel data. Describe the destination, special assignment - if any (otherwise type N/A), the estimated length of stay and date of departure, and the address to which the passport will be returned.
The next block should contain information about the authorizing official. This person is determined by the Installation Commander.  This section must include the name, grade, title, contact information, and signature of the authorizing official and the date of singing.
Any additional data goes in Box 19.
At this point, the DD Form 1056 is considered complete. The bottom section that contains Boxes 20 through 30 will later be filled out by the receiving agent.