DA Form 2408-13-1 Aircraft Inspection and Maintenance Record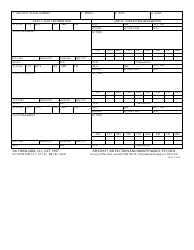 DA Form 2408-13-1 or the "Aircraft Inspection And Maintenance Record" is a Department of the Army-issued form used by and within the United States Military.
The form - often incorrectly referred to as the DD form 2408-13-1 - was last revised on October 1, 1997. Download an up-to-date fillable DA Form 2408-13-1 down below in PDF-format or look it up on the Army Publishing Directorate website.
1. AIRCRAFT SERIAL NUMBER
2. MODEL
3. DATE
4. PAGE
PART I - FAULT INFORMATION
PART II - CORRECTING INFORMATION
DATE
STATUS
SYS
NO
TIME
PID
DATE
TIME
ACFT HRS
ROUNDS
ACTION CODE
WUC
FAULTS/REMARKS
ACTION
PID
CAT
HRS
PID
CAT
HRS
PID
CAT
HRS
ACFT HRS
WHEN DISC
HOW REC
MAL EFF
DELAY
TIPID
TI MANHOURS
WUC
STATUS
SYS
DATE
NO
TIME
PID
ACFT HRS
DATE
TIME
ROUNDS
ACTION CODE
WUC
FAULTS/REMARKS
ACTION
PID
CAT
HRS
PID
CAT
HRS
PID
CAT
HRS
ACFT HRS
WHEN DISC
HOW REC
MAL EFF
DELAY
WUC
TIPID
TI MANHOURS
STATUS
SYS
DATE
NO
TIME
PID
ACFT HRS
DATE
TIME
ROUNDS
ACTION CODE
WUC
FAULTS/REMARKS
ACTION
PID
CAT
HRS
PID
CAT
HRS
PID
CAT
HRS
ACFT HRS
WHEN DISC
HOW REC
MAL EFF
DELAY
TIPID
TI MANHOURS
WUC
DA FORM 2408-13-1, OCT 1997
AIRCRAFT INSPECTION AND MAINTENANCE RECORD
For use of this form, see DA PAM 738-751; the proponent agency is DCSLOG
DA FORM 2408-13-1, OCT 91, MAY BE USED
APD LC v3.01
Download DA Form 2408-13-1 Aircraft Inspection and Maintenance Record