DA Form 4283 Facilities Engineering Work Request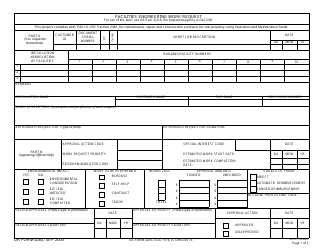 What Is DA Form 4283?
DA Form 4283, Facilities Engineering Work Request is one of the two standard Department of Army forms that are used for recording work requirements. The second form used for this purpose is the DA Form 4287, Service Order, used for requesting and executing service order-type procedures.
The latest version of the form - sometimes incorrectly referred to as the DD Form 4283 - was released by the Department of the Army in September 2003. An up-to-date DA Form 4283 fillable version is available for download and online filing below or can be found through the Army Publishing Directorate website.
The authorization and execution of the work process are carried out with the use of either the DA Form 4284 or DA Form 4286. The DA Form 4284, Facilities Engineering Work Order, is usually used if work is supposed to be accomplished in-house while the DA Form 4286, Facilities Engineering Contract Data Form, is used when the work is to be performed by contract.
FACILITIES ENGINEERING WORK REQUEST
For use of this form, see DA Pam 420-6; the proponent agency is OACSIM.
This project complies with Title 10, USC Section 2461, for maintenance, repair and construction contracts for real property using Operation and Maintenance funds.
DOCUMENT
CUSTOMER
DATE
PART A
SERIAL
SHORT JOB DESCRIPTION
(See requestor
ID
NUMBER
DA
MON
YR
instructions)
INSTALLATION
BUILDING/FACILITY NUMBERS
ABBREVIATION
OF FACILITIES
1
2
3
4
5
6
7
8
9
10
1
2
3
REMARKS
INSTALLATION NAME
CUSTOMER NAME
POC NAME
POC PHONE NUMBER
WORK DESCRIPTION (Description and justification of work request)
AUTHORIZED REQUESTOR (Type or print)
AUTHORIZED REQUESTOR SIGNATURE
APPROVAL ACTION CODE:
SPECIAL INTEREST CODE:
DATE
PART B
WORK REQUEST PRIORITY:
DA
MON
YR
ESTIMATED WORK START DATE:
(Approving Official Only)
ESTIMATED WORK COMPLETION
PROGRAM INDICATOR CODE:
DATE:
ENVIRONMENTAL IMPACT
WORK TO BE PERFORMED
WORKCLASS
APPROVAL AMOUNTS
SOURCE OF FUNDS
FUNDED
UNFUNDED
YES
NO
IN-HOUSE
DIRECT
ENVIRONMENTAL
AUTOMATIC REIMBURSEMENT
CONSIDERATION
SELF-HELP
$
$
FUNDED REIMBURSEMENT
EIS / EIA
$
$
INITIATED
CONTRACT
ACCOUNT PROCESSING CODE
$
$
EIS / EIA
TOTAL
TROOP
COMPLETED
$
$
DESIGN APPROVAL (Please type or print name)
APPROVAL AUTHORITY (Please type or print name)
DATE
APPROVAL ACTION
DATE
DA
MON
YR
DA
MON
YR
DESIGN APPROVAL SIGNATURE
APPROVAL AUTHORITY SIGNATURE
APPROVED
DISAPPROVED
APD LC v2.00ES
DA FORM 4283, SEP 2003
DA FORM 4283, AUG 1978, IS OBSOLETE.
Page 1 of 2
How to Fill Out DA Form 4283?
DA Form 4283 instructions are provided below. A step-by-step overview of all procedures associated with the form can be found in DA Pam 420-6, Directorate of Public Works Resource Management System released in May 1997.
The form itself consists of two parts - Part A and Part B. Part A is completed by requestor per instructions below. Part B is completed by the DPW in compliance with local procedures.
Box 1 - Customer ID - requires one to three numeric characters per local DPW policy. The code is used for identifying the user, occupant, owner of the facility or the organizational activity submitting a work request.
Box 2 - Document Serial Number - is for code made up of five alphanumeric characters. This code can be generated either digitally, by a requestor or assigned by the DPW. The code is used to identify each unique document of in a series and when used in conjunction with the installation number, customer identification, document type, and fiscal year will identify a single document of a particular type.
Box 3 - Fiscal Year - is to be filled with the last digit of the fiscal year (for example, 6 will stand for 'Fiscal Year 2006').
Box 4 - Type - must be left blank. The box will be completed by the DPW Work Reception.
Box 5 - Short Job Description - requires up to a phrase of up to 30 characters that will provide a concise summary statement of the work to be performed.
Box 6 - Date - requires the date the work request was completed in DDMMYY format.
Box 7 - Installation Abbreviation - is to be filled with up to eight characters for the locally assigned abbreviation of the installation's officially designated name.
Box 8 - Facility Number - is to be filled with a code of five characters which represent the unique serial number assigned to a real property facility within an installation for identification through its life cycle.
Box 9 - Remarks - must include the email address of the Primary POC and an Alternate POC for the requested work.
Box 10 - Installation Name - requires the official name of an Army real estate holding and the principal function as stated in the real property inventory.
Box 11 - Customer Name - is for the name or description of the user, occupant, owner of a facility, or the organizational activity authorized to submit a request for work.
Box 12 - POC Name - is for the name of the person responsible for specific work information about requested work.
Box 13 - POC Phone Number - is self-explanatory and must be no more than 12 alphanumeric characters long.
Box 14 - Work Description - requires a description of the procedures with impact and justification. Part A must then be signed by the authorized requestor in Box 16 with their full name specified in Box 15.