DA Form 5189 Application for Respite Care for Children and Adults With Disabilities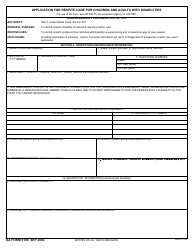 DA Form 5189 - also known as the "Application For Respite Care For Children And Adults With Disabilities" - is a United States Military form issued by the Department of the Army.
The form - often mistakenly referred to as the DD form 5189 - was last revised on September 1, 2002. Download an up-to-date fillable PDF version of the DA 5189 down below or look it up on the Army Publishing Directorate website.
APPLICATION FOR RESPITE CARE FOR CHILDREN AND ADULTS WITH DISABILITIES
For use of this form, see AR 608-75; the proponent agency is OACSIM.
DATA REQUIRED BY THE PRIVACY ACT OF 1974
AUTHORITY:
Title 5, United States Code, Section 301.
PRINCIPAL PURPOSE:
To identify specific disability of individual requiring respite care.
ROUTINE USES:
To identify specific problems that individual with disability is experiencing and to determine type of care needed.
DISCLOSURE:
Providing information is voluntary. Failure to provide information will result in disapproval of prospective respite care user's
application.
SECTION A - IDENTIFYING AND RESOURCE INFORMATION
1. NAME (Person with disability)
2. NAME (Parent, guardian, or responsible family member)
3. BIRTHDATE
4. ADDRESS (Include ZIP Code)
5. TELEPHONE NUMBERS
(YYYYMMDD)
HOME
MOTHER (work)
FATHER (work)
6. EMERGENCY CONTACT (Relative, friend, etc.) (Name, address and telephone number)
IF THIS EMERGENCY CONTACT IS NOT AVAILABLE TO SUBSTITUTE FOR THE CAREGIVER IN AN EMERGENCY NAME, ADDRESS AND TELEPHONE
NUMBER OF A PERSON WHO HAS AGREED TO BE AVAILABLE AND TO ACCEPT RESPONSIBILITY FOR THE PERSON WITH A DISABILITY IN THE
EVENT YOU CANNOT BE REACHED.
7. LIST ALL OTHER HOUSEHOLD MEMBERS
a. NAME
b. BIRTHDATE (YYYYMMDD)
8. PHYSICIAN (Name, address and telephone no.)
9. DENTIST (Name, address and telephone no.)
10. PREFERRED HOSPITAL (Name and address)
12. DESCRIPTIVE INFORMATION (Individual with Disability)
a. DESCRIBE INDIVIDUAL'S DISABILITY
b. DESCRIBE ANY CHRONIC MEDICAL PROBLEMS A CAREGIVER SHOULD BE AWARE OF
DA FORM 5189, SEP 2002
APD LC v1.00
EDITION OF JUL 1993 IS OBSOLETE
Download DA Form 5189 Application for Respite Care for Children and Adults With Disabilities