DA Form 5701-72 Uh-72a Performance Planning Card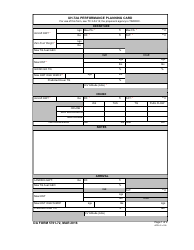 DA Form 5701-72 or the "Uh-72a Performance Planning Card" is a Department of the Army-issued form used by and within the United States Military.
The form - often incorrectly referred to as the DD form 5701-72 - was last revised on March 1, 2016. Download an up-to-date fillable DA Form 5701-72 down below in PDF-format or look it up on the Army Publishing Directorate website.
UH-72A PERFORMANCE PLANNING CARD
For use of this form, see TC 3-04.12; the proponent agency is TRADOC.
DEPARTURE
o
kgs
Max PA:
*
ft
Max FA:
*
C
Aircraft GWT
*
o
lbs
PA:
*
ft
FAT:
*
C
kgs
Zero Fuel Weight
*
lbs
Max TQ Avail AEO
%
IGE
OGE
kgs
kgs
Max GWT
*
lbs
lbs
GO/NO GO TQ
%
%
kgs
lbs
Max GWT OGE W/MCP
*
Predicted Hover TQ
%
H/V Altitude (AGL)
*
CRUISE
o
Aircraft GWT
*
lbs
PA:
*
ft
FAT:
*
C
IAS
TAS
TQ
FUEL FLOW
CRUISE
*
MAX ENDURANCE
MAX RANGE
OEI IAS-MIN/MAX
min
kts
max
kts
NOTES
ARRIVAL
LANDING GWT:
lbs
PA:
ft
Max TQ Avail AEO
%
o
IGE
FAT:
C
kgs
Max GWT
lbs
OGE
Max GWT OGE W/MCP
kgs
lbs
kgs
Predicted Hover TQ
%
lbs
H/V Altitude (AGL)
Page 1 of 2
DA FORM 5701-72, MAR 2016
APD LC v1.00