DA Form 5701-228 Oh-58a/C and Th-67 Performance Planning Card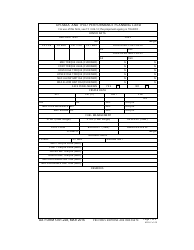 DA Form 5701-228 - also known as the "Oh-58a/c And Th-67 Performance Planning Card" - is a United States Military form issued by the Department of the Army.
The form - often mistakenly referred to as the DD form 5701-228 - was last revised on March 1, 2016. Download an up-to-date fillable PDF version of the DA 5701-228 down below or look it up on the Army Publishing Directorate website.
OH-58A/C AND TH-67 PERFORMANCE PLANNING CARD
For use of this form, see TC 3-04.12; the proponent agency is TRADOC.
HOVER DATA
AIRCRAFT GWT
FUEL
lbs
lbs/gal
PA CUR
PA MAX
FAT CUR
FAT MAX
LOAD AVAIL CUR PA/FAT
IGE
OGE
LOAD AVAIL MAX PA/FAT
IGE
OGE
%
MAX TORQUE AVAIL (CURR/MAX)
%
CONT TORQUE AVAIL (CURR/MAX)
%
%
HOVER IGE TORQUE (CURR/MAX)
%
%
HOVER OGE TORQUE (CURR/MAX)
%
%
MAX ALLOW GWT IGE (CURR/MAX)
%
%
MAX ALLOW GWT OGI (CURR/MAX)
%
%
SAFE PEDAL MARGIN
YES
NO
CRUISE DATA
ALT
FAT (C)
GWT
VNE
IAS
IAS
TAS
FUEL
TORQUE
MAX R/C/ENDURANCE
IAS
FUEL
TORQUE
MAX RANGE
IAS
FUEL
TORQUE
FUEL MANAGEMENT
START(TIME lbs/gal)
STOP (TIME lbs/gal)
RESERVE (TIME)
FUEL FLOW
BURNOUT (TIME)
BINGO/RESERVE
PPH/GPH
lbs/gal
ARRIVAL DATA
PA MAX
FAT MAX
LANDING GWT
MAX TORQUE AVAIL (MAX)
CONT TORQUE AVAIL (MAX)
HOVER IGE TORQUE (MAX)
HOVER OGE TORQUE (MAX)
MAX ALLOWABLE GWT IGE (MAX)
MAX ALLOWABLE GWT OGE (MAX)
REMARKS
Page 1 of 2
DA FORM 5701-228, MAR 2016
PREVIOUS EDITIONS ARE OBSOLETE
APD LC v1.00
Download DA Form 5701-228 Oh-58a/C and Th-67 Performance Planning Card