DA Form 7120 Commander's Task List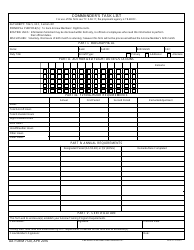 DA Form 7120 - also known as the "Commander's Task List" - is a United States Military form issued by the Department of the Army.
The form - often mistakenly referred to as the DD form 7120 - was last revised on April 1, 2016. Download an up-to-date fillable PDF version of the DA 7120 down below or look it up on the Army Publishing Directorate website.
COMMANDER'S TASK LIST
For use of this form see TC 3-04.11; the proponent agency is TRADOC.
AUTHORITY: Title 5, USC, Section 301
PRINCIPAL PURPOSE(S): To track Aircrew Members' Flight Records.
ROUTINE USES: Information furnished may be disclosed within DoD only, to officials or employees who need this information to perform
their official duties.
DISCLOSURE: Voluntary. Disclosure of birth month is voluntary; however this form will not be processed without the Aircrew Member's birth month.
PART I. BIOGRAPHICAL
Rank:
DoD ID:
FAC:
Name:
Birth Month:
Aircraft Type:
Primary
Additional
Alternate
Duty Title:
PART II. AUTHORIZED FLIGHT DUTIES/STATIONS
Remarks
PART III. FLYING-HOUR REQUIREMENTS
Annual
First Period
Second Period
Remarks/Adjustment
Dates
Total Aircraft Hours
Total Simulator Hours
Night Unaided Hours
NVG Hours
Hood/Weather Hours
Other Hours
Other Hours
PART IV.ANNUAL REQUIREMENTS
Designated Period (AC/USAR) or Qtr (ARNG)
Remarks/Date Completed
PART V. CERTIFICATION
This form and its enclosure(s) establish your Aircrew Training Program Requirements.
Signature:
Effective Date:
Commander:
I certify that I have read and understand my ATP requirements contained on this form and its enclosure(s).
Crew Member's Signature:
Date:
DA FORM 7120, APR 2016
PREVIOUS EDITIONS ARE OBSOLETE.
APD LC v1.01ES