DA Form 7764-6 Army Musician Proficiency Assessment (Ampa) (Flute)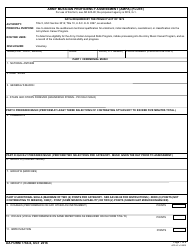 DA Form 7764-6 - also known as the "Army Musician Proficiency Assessment (ampa) (flute)" - is a United States Military form issued by the Department of the Army.
The form - often mistakenly referred to as the DD form 7764-6 - was last revised on October 1, 2016. Download an up-to-date fillable PDF version of the DA 7764-6 down below or look it up on the Army Publishing Directorate website.
ARMY MUSICIAN PROFICIENCY ASSESSMENT (AMPA) (FLUTE)
For use of this form, see AR 220-90; the proponent agency is DCS, G-1.
DATA REQUIRED BY THE PRIVACY ACT OF 1974
Title 5, USC Section 3012; Title 10, U.S.C. E.O. 9397, as amended.
AUTHORITY:
Use to determine the auditionee's technical qualification for enlistment, initial classification, reenlistment, or classification into the
PRINCIPAL PURPOSE:
Army Music Career Program.
To determine eligibility for the Army Civilian Acquired Skills Program, initiate processing into the Army Music Career Program, and as
ROUTINE USES:
a record of the individual's technical ability and progress.
DISCLOSURE:
Voluntary.
RANK
DATE (YYYYMMDD)
CLASS NUMBER (USASOM USE ONLY)
NAME
(LAST, FIRST, MIDDLE)
PART I CEREMONIAL MUSIC
1. NATIONAL ANTHEM
2. ARMY SONG
3. GENERAL'S MARCH
4. STARS AND STRIPS FOREVER (GRANDIOSO STRAIN - PICCOLO SOLO)
PART II PREPARED MUSIC (PERFORM AT LEAST THREE SELECTIONS OF CONTRASTING STYLES NOT TO EXCEED FIVE MINUTES TOTAL.)
5. COMMENTS
PART III QUICKLY PREPARED MUSIC (PERFORM TWO SELECTIONS PER CATEGORY. MUSIC GIVEN THE DAY PRIOR TO ASSESSMENT.)
6. GROUP A (CONCERT BAND)
7. GROUP B (MARCHES)
8. GROUP C (CHAMBER ENSEMBLE)
PART IV ADDITIONAL SKILLS (MAXIMUM OF TWO (2) POINTS PER CATEGORY. SEE AR 220-90 FOR INSTRUCTIONS.) ZERO (0) POINTS (NOT
CONTRIBUTING TO MISSION), ONE(1) POINT (SOME MISSION CAPABILITY) OR TWO (2) POINTS (SIGNIFICANT MISSION ENHANCER)
9. DOUBLES (PERFORMANCE ON ANY OTHER ASI INSTRUMENT)
POINTS
10. VOCALS (VOCAL PERFORMANCE ON SAME REPERTOIRE AS REQUIRED ON DA FORM 7764-15)
POINTS
11. IMPROVISATION
POINTS
Page 1 of 2
DA FORM 7764-6, OCT 2016
APD LC v1.00ES
Download DA Form 7764-6 Army Musician Proficiency Assessment (Ampa) (Flute)