DA Form 3180-2 Chemical and Biological Personnel Screening and Evaluation Record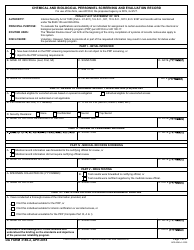 DA Form 3180-2 or the "Chemical And Biological Personnel Screening And Evaluation Record" is a Department of the Army-issued form used by and within the United States Military.
The form - often incorrectly referred to as the DD form 3180-2 - was last revised on April 1, 2018. Download an up-to-date fillable DA Form 3180-2 down below in PDF-format or look it up on the Army Publishing Directorate website.
CHEMICAL AND BIOLOGICAL PERSONNEL SCREENING AND EVALUATION RECORD
For use of this form, see AR 50-6; the proponent agency is DCS, G-3/5/7.
PRIVACY ACT STATEMENT OF 1974
AUTHORITY:
Internal Security Act of 1950 (Pub L. 81-831), 5 U.S.C., 301, 10 U.S.C., 3013, E.O. 9397 and records will be maintained
under file #640-10b and 690-200a.
PRINCIPAL PURPOSE:
To evaluate the qualifications and suitability of an individual for assignment to certain sensitive duties under the chemical or
biological personnel reliability program (PRP) per AR 50-6 or AR 190-17.
ROUTINE USES:
The "Blanket Routine Uses" set forth at the beginning of the Army compilation of systems of records notices also apply to
this system.
DISCLOSURE:
Voluntary. However, failure to provide all or part of the requested information may result in non-selection for duties under
the personnel reliability program.
PART I - INITIAL INTERVIEW
A.
I have been briefed on the PRP screening requirements and I do not object to the PRP screening, or
I object to the PRP screening requirements
B. NAME OF INDIVIDUAL (Last, First, MI)
C. SIGNATURE
D. DATE
E. ORGANIZATION
F. JOB TITLE
G. NAME OF INTERVIEWER
H. INTERVIEWER SIGNATURE
I. DATE
PART II - REVIEW OF PERSONNEL SECURITY INVESTIGATION (PSI) REPORT
A.
Individual eligible for escorted access based on opened investigation
Individual eligible for unescorted access
Escorted access not authorized or not applicable
B. PSI COMPLETED ON (YYYYMMDD)
C. TYPE OF PSI (NACLC, ANACI, SSBI, etc.):
None
Confidential
Secret
Top Secret
D. Security Clearance:
E. NAME OF OFFICIAL REVIEWING PSI REPORT
F. SIGNATURE
G. DATE
PART III - REVIEW OF PERSONNEL RECORDS
B. SIGNATURE
C. DATE
PART IV - MEDICAL RECORDS SCREENING
A.
Medical record information was forwarded to the certifying official for review, or
Medical record information did not require certifying official review
B. NAME OF SCREENING OFFICIAL
C. SIGNATURE
D. DATE
PART V - DRUG TESTING
A. SPECIMEN COLLECTED ON (YYYYMMDD)
B.
Test results were forwarded to certifying official, or
Test results were certified negative by the medical review official.
C. NAME OF OFFICIAL
D. SIGNATURE
E. DATE
PART VI - CERTIFYING OFFICIAL'S EVALUATION/ASSIGNMENT BRIEFING
A. I have conducted a thorough review of the information provided, and
____ I find this individual suitable for the PRP, or
____ I find this individual suitable for interim certification or escorted access, or
____ I find this individual unsuitable for the PRP (Complete Part IX, A to I)
B. NAME OF OFFICIAL
C. SIGNATURE
D. DATE
Individual's acknowledgment: I have received and
E. SIGNATURE
F. DATE
understood the briefing on the standards and objectives
of the personnel reliability program.
PREVIOUS EDITIONS OF THE DA FORM 3180 ARE OBSOLETE.
DA FORM 3180-2, APR 2018
Page 1 of 3
APD AEM v1.01ES
Download DA Form 3180-2 Chemical and Biological Personnel Screening and Evaluation Record