DA Form 7120-1 Crew Member Task Performance and Evaluation Requirements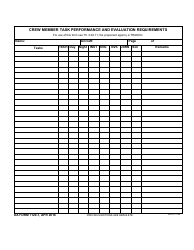 DA Form 7120-1 - also known as the "Crew Member Task Performance And Evaluation Requirements" - is a United States Military form issued by the Department of the Army.
The form - often mistakenly referred to as the DD form 7120-1 - was last revised on April 1, 2016. Download an up-to-date fillable PDF version of the DA 7120-1 down below or look it up on the Army Publishing Directorate website.
CREW MEMBER TASK PERFORMANCE AND EVALUATION REQUIREMENTS
For use of this form see TC 3-04.11; the proponent agency is TRADOC.
Name:
Aircraft:
Page
of
TECH
Day
Night INST
NVG
NVS CBRN
Sim
Remarks
Tasks
PREVIOUS EDITIONS ARE OBSOLETE.
APD LC v1.00
DA FORM 7120-1, APR 2016
Download DA Form 7120-1 Crew Member Task Performance and Evaluation Requirements