Form 18-8-A Report of Purchases and Receipts of Tobacco - Oklahoma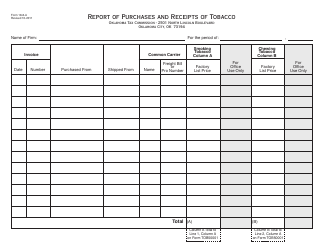 Form 18-8-A is a Oklahoma Tax Commission form also known as the "Report Of Purchases And Receipts Of Tobacco". The latest edition of the form was released in October 1, 2011 and is available for digital filing.
Download a fillable PDF version of the Form 18-8-A down below or find it on Oklahoma Tax Commission Forms website.
Report of Purchases and Receipts of Tobacco
Form 18-8-A
Revised 10-2011
Oklahoma Tax Commission - 2501 North Lincoln Boulevard
Oklahoma City, OK 73194
Name of Firm:
For the period of:
,
Smoking
Chewing
Tobacco
Tobacco
Invoice
Common Carrier
Column B
Column A
For
For
Freight Bill
or
Factory
Office
Factory
Office
Date
Number
Purchased From
Shipped From
Name
Pro Number
List Price
Use Only
List Price
Use Only
Total
(A)
(B)
Column A Total to
Column B Total to
Line 1, Column A
Line 2, Column A
on Form TOB50001
on Form TOB50001
Report of Purchases and Receipts of Tobacco
Form 18-8-A
Revised 10-2011
Oklahoma Tax Commission - 2501 North Lincoln Boulevard
Oklahoma City, OK 73194
Name of Firm:
For the period of:
,
Smoking
Chewing
Tobacco
Tobacco
Invoice
Common Carrier
Column B
Column A
For
For
Freight Bill
or
Factory
Office
Factory
Office
Date
Number
Purchased From
Shipped From
Name
Pro Number
List Price
Use Only
List Price
Use Only
Total
(A)
(B)
Column A Total to
Column B Total to
Line 1, Column A
Line 2, Column A
on Form TOB50001
on Form TOB50001
Download Form 18-8-A Report of Purchases and Receipts of Tobacco - Oklahoma