Form CMS-671 Long-Term Care Facility Application for Medicare and Medicaid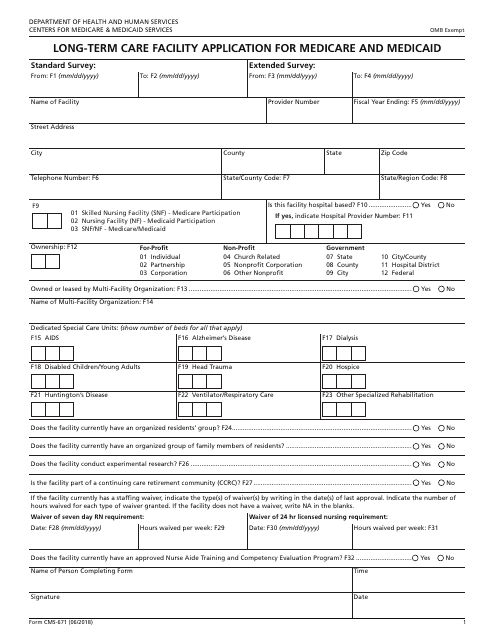 What Is Form CMS-671?
Form CMS-671, Long-Term Care Facility Application for Medicare and Medicaid, is a document developed for nursing facilities that are supposed to be filed during standard or extended health surveys. The purpose of the document is to collect data about a facility and the types of help they are providing, the number of special care units they have, etc.
Alternate Name:
Long-Term Care Facility Application.
The CMS-671 Form must be filled out by all Nursing (NF) and Skilled Nursing Facilities (SNF) participating in Medicare, Medicaid, or both. The information gathered with this application will be further included in the Certification and Survey Provider Enhanced Reporting (CASPER) system.
The document was issued by the Centers for Medicare & Medicaid Services (CMS), a part of the Department of Health and Human Services, and was last revised on June 1, 2018. A fillable Long-Term Care Facility Application is available for download below.
Long-Term Care Facility Application Instructions
Form CMS-671 consists of several parts, which include the following:
Name and address of the facility. In the first part of the document, a filer must provide information about the nursing facility, such as its name, full address, telephone number, etc. Nevertheless, some sections of the application are supposed to be left blank - the type of survey and its period, state/country code, and state/region code will be completed by the survey team and State Survey Office respectively;
Facility type and ownership. Here an applicant is required to designate the type of facility (NF or SNF), whether it is a hospital-based facility, and how it is operated (for-profit, non-profit, government);
Multi-facility organization. If the facility is owned or leased by a multi-facility organization, a filer should state it here and enter the name of the organization;
Information about the facility's special units. Applicants use this section to state the number of beds that can be used with special care units, which are dedicated to certain diseases and conditions, such as AIDS, head trauma, Alzheimer's Disease, Respiratory care, etc.;
Description of the facility. This section of the document contains questions that a filer is supposed to answer. For example, an applicant must state if the facility has an organized resident's group or if they conduct experimental research;
Conclusion. In the last part of the application, an individual who has completed the form must put the time and date of filling it in, sign it, and designate their full name.
After completing the document, a filer must submit it to the State Division of Medical Services. To find it, an applicant should visit the official website of the CMS.
Download Form CMS-671 Long-Term Care Facility Application for Medicare and Medicaid