Sample DLSE Form 155 Exhibit A Commission Summary - California (English / Spanish)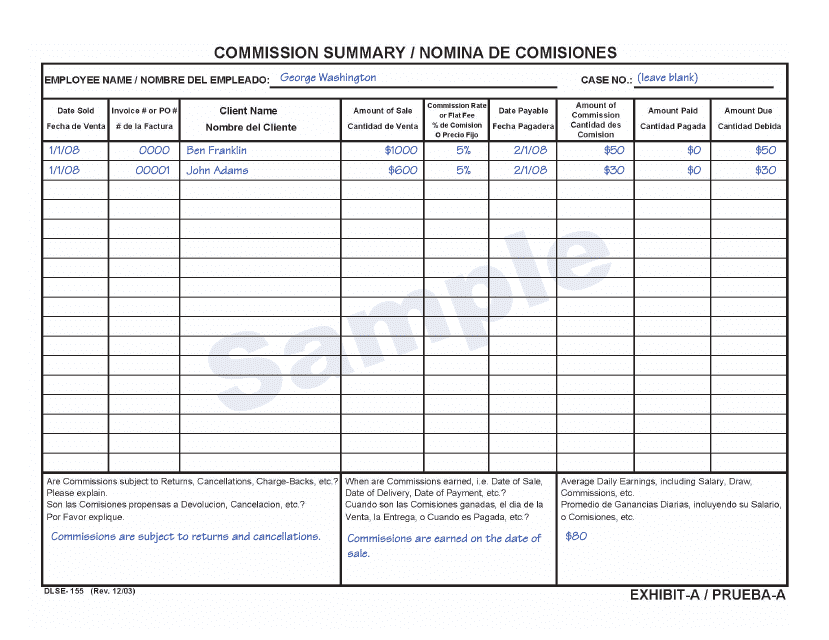 Fill PDF Online
Fill out online for free
without registration or credit card
What Is DLSE Form 155 Exhibit A?
This is a legal form that was released by the California Department of Industrial Relations - Division of Labor Standards Enforcement - a government authority operating within California. As of today, no separate filing guidelines for the form are provided by the issuing department.
FAQ
Q: What is DLSE Form 155?
A: DLSE Form 155 is a Commission Summary form.
Q: What is Exhibit A?
A: Exhibit A is a section of DLSE Form 155.
Q: What does Commission Summary mean?
A: Commission Summary refers to a summary of commissions.
Q: Is DLSE Form 155 available in English and Spanish?
A: Yes, DLSE Form 155 is available in both English and Spanish.
Download Sample DLSE Form 155 Exhibit A Commission Summary - California (English / Spanish)