Form AZ-500 2018 Coc Registration Application - Arizona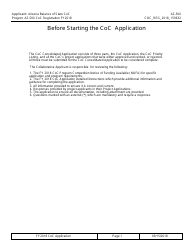 Form AZ-500 is a Arizona Department of Housing form also known as the "Coc Registration Application". The latest edition of the form was released in September 15, 2018 and is available for digital filing.
Download a PDF version of the Form AZ-500 down below or find it on Arizona Department of Housing Forms website.
Applicant: Arizona Balance of State CoC
AZ-500
Project: AZ-500 CoC Registration FY2018
COC_REG_2018_159632
Before Starting the CoC Application
The CoC Consolidated Application consists of three parts, the CoC Application, the CoC Priority
Listing, and all the CoC's project applications that were either approved and ranked, or rejected.
All three must be submitted for the CoC Consolidated Application to be considered complete.
The Collaborative Applicant is responsible for reviewing the following:
1. The FY 2018 CoC Program Competition Notice of Funding Available (NOFA) for specific
application and program requirements.
2. The FY 2018 CoC Application Detailed Instructions which provide additional information and
guidance for completing the application.
3. All information provided to ensure it is correct and current.
4. Responses provided by project applicants in their Project Applications.
5. The application to ensure all documentation, including attachment are provided.
6. Questions marked with an asterisk (*), which are mandatory and require a response.
FY2018 CoC Application
Page 1
09/15/2018