DA Form 2404 Equipment Inspection and Maintenance Worksheet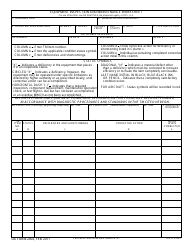 What is DA Form 2404?
DA Form 2404, Equipment Inspection and Maintenance Worksheet is a U.S. Army form used for recording and controlling the inspection and maintenance of equipment.
The most recent edition of the form - often mistaken for the DD Form 2404 - was issued by the Department of the Army (DA) in April 1979. A fillable blank DA form 2404 is available for digital filing and download below or can be obtained through the Army Publishing Directorate Website.
What is the DA Form 2404 Used for?
The DA 2404 is used to record any inspections carried out on equipment that is in possession of the Armed Forces. This form is primarily used together with a corresponding technical manual for the particular part of the equipment that is being inspected or worked on.
DA Form 2404 instructions and a step-by-step overview of the form can be found below.
EQUIPMENT INSPECTION AND MAINTENANCE WORKSHEET
For use of this form, see DA PAM 750-8; the proponent agency is DCS, G-4.
1. ORGANIZATION
2. NOMENCLATURE AND MODEL
ROUNDS
HOT
3. REGISTRATION/SERIAL/NSN
4a. MILES
b. HOURS
c.
d.
5. DATE
6. TYPE INSPECTION
FIRED
STARTS
7.
APPLICABLE REFERENCE
TM NUMBER
TM DATE
TM NUMBER
TM DATE
COLUMN d
Show corrective action for deficiency or
COLUMN a
Enter TM item number.
shortcoming listed in Column c.
Enter the applicable condition status symbol.
COLUMN b
COLUMN e
Individual ascertaining completed corrective
COLUMN c
Enter deficiencies and shortcomings.
action initial in this column.
STATUS SYMBOLS
"X"
Indicates a deficiency in the equipment that places
DIAGONAL "(/)"
Indicates a material defect other
it in an inoperable status.
than a deficiency which must be corrected to increase
efficiency or to make the item completely serviceable.
CIRCLED "X"
Indicates a deficiency, however, the
equipment may be operated under specific limitations as
LAST NAME INITIAL IN BLACK, BLUE-BLACK INK,
directed by higher authority or as prescribed locally, until
OR PENCIL - Indicates that a completely satisfactory
corrective action can be accomplished.
condition exists.
HORIZONTAL DASH "(-)"
Indicates that a required
FOR AIRCRAFT - Status symbols will be recorded in red.
inspection, component replacement, maintenance operation
check, or test flight is due but has not been accomplished,
or an overdue MWO has not been accomplished.
ALL INSPECTIONS AND EQUIPMENT CONDITIONS RECORDED ON THIS FORM HAVE BEEN DETERMINED
IN ACCORDANCE WITH DIAGNOSTIC PROCEDURES AND STANDARDS IN THE TM CITED HEREON.
MANHOURS
8b. TIME
9a. SIGNATURE
(Maintenance Supervisor)
9b. TIME
10.
8a. SIGNATURE (Person(s) performing inspection)
REQUIRED
INITIAL
TM
WHEN
ITEM
STATUS
DEFICIENCIES AND SHORTCOMINGS
CORRECTIVE ACTION
CORRECTED
NO.
a
b
c
d
e
PREVIOUS EDITIONS ARE OBSOLETE.
APD LC v1.00ES
DA FORM 2404, FEB 2011
How to Fill Out a DA Form 2404?
First, identify the organization working on a piece of equipment in Box 1. Boxes 2 through 6 are used for providing identifying details of the equipment that is being worked on. Make sure you don't forget to provide the nomenclature and model of the chosen piece of equipment.
Add operation information applicable to the chosen equipment: miles, hours, hot starts and other measuring criteria.
Box 7 is used for listing all technical manuals that are being used. When using more than two manuals, provide identifying information on an additional copy of the form and attach it to your worksheet.
The service member responsible for maintaining or inspecting the equipment must certify the document with their signature and add a correct date in Boxes 8 and 9 together with a maintenance supervisor. The amount of service time required has to be listed in Box 10.
The rest of the space given on the form is used for listing and identifying the inspected items in the maintenance records. Every item number and status has to be identified individually in Columns A and B. Any equipment problems have to be listed in Column C, Deficiencies and Shortcomings. The necessary correcting actions for improving the item have to be listed in Column D. Column E is used for signing off every piece of equipment with the initials of the maintenance personnel.
After the form is fully filled, the records are to be kept with the equipment in case of a need for further reference in other maintenance operations. The maintenance group should also save a copy of the DA 2404 form to maintain an active record of all completed inspections performed on the equipment.