Form DV-AA124.1 Additional Adult Children (Divorce With Children) - Illinois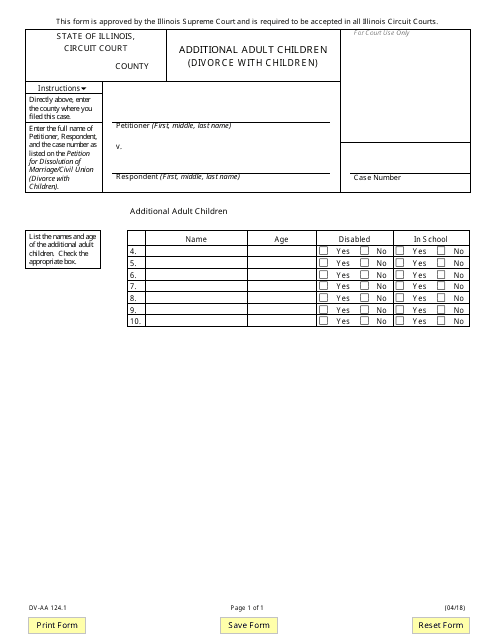 Fill PDF Online
Fill out online for free
without registration or credit card
What Is Form DV-AA124.1?
This is a legal form that was released by the Illinois Circuit Court - a government authority operating within Illinois. As of today, no separate filing guidelines for the form are provided by the issuing department.
FAQ
Q: What is Form DV-AA124.1?
A: Form DV-AA124.1 is a form used in Illinois for adding additional adult children to a divorce case that involves children.
Q: Who should use Form DV-AA124.1?
A: This form should be used by parents who are going through a divorce in Illinois and want to include additional adult children in the case.
Q: How do I fill out Form DV-AA124.1?
A: You will need to provide your personal information, such as your name and contact details, as well as the names and information of the additional adult children you want to include in the case. Follow the instructions on the form carefully.
Form Details:
Released on April 1, 2018;
The latest edition provided by the Illinois Circuit Court;
Easy to use and ready to print;
Quick to customize;
Compatible with most PDF-viewing applications;
Fill out the form in our online filing application.
Download a fillable version of Form DV-AA124.1 by clicking the link below or browse more documents and templates provided by the Illinois Circuit Court.
Download Form DV-AA124.1 Additional Adult Children (Divorce With Children) - Illinois