Form PC627 Acceptance of Appointment and Report of Guardian Ad Litem of Alleged Incapacitated Individual - Michigan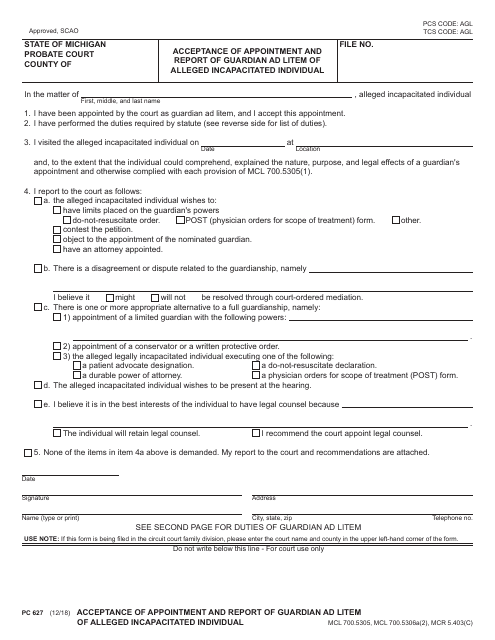 Fill PDF Online
Fill out online for free
without registration or credit card
What Is Form PC627?
This is a legal form that was released by the Michigan Probate Court - a government authority operating within Michigan. As of today, no separate filing guidelines for the form are provided by the issuing department.
FAQ
Q: What is Form PC627?
A: Form PC627 is the Acceptance of Appointment and Report of Guardian Ad Litem of Alleged Incapacitated Individual.
Q: What is the purpose of Form PC627?
A: The purpose of Form PC627 is to accept the appointment as a Guardian Ad Litem for an alleged incapacitated individual and to provide a report to the court regarding the individual's circumstances.
Q: Who needs to fill out Form PC627?
A: Form PC627 needs to be filled out by the person accepting the appointment as Guardian Ad Litem for the alleged incapacitated individual.
Q: Are there any fees associated with Form PC627?
A: There may be filing fees associated with submitting Form PC627. Contact the court clerk's office for more information.
Form Details:
Released on December 1, 2018;
The latest edition provided by the Michigan Probate Court;
Easy to use and ready to print;
Quick to customize;
Compatible with most PDF-viewing applications;
Fill out the form in our online filing application.
Download a fillable version of Form PC627 by clicking the link below or browse more documents and templates provided by the Michigan Probate Court.
Download Form PC627 Acceptance of Appointment and Report of Guardian Ad Litem of Alleged Incapacitated Individual - Michigan