Last Will and Testament Template - New York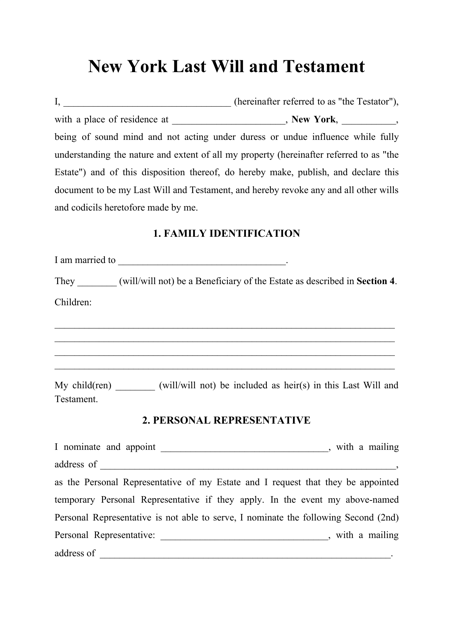 A New York Last Will and Testament details how a person's possessions and property should be distributed after their death. The document has three main purposes:
Selecting the beneficiaries to take possession of the individual's property after their death.
Electing guardians for childcare.
Setting up a living trust to take care of any animals left behind.
The person making the will is known as the Testator. The Testator must be at of age and of sound mind in order to create their will. A New York will must be done in writing to be recognized by the court.
The New York Last Will is defined by § 1-2. (EPT - Estates, Powers & Trusts). Section 3-1.1 of the said law states that the will must be signed be at least two (2) witnesses who shall attest to the Testator's signature within a thirty-day period and shall affix their residence addresses at the end of the will. Click on this link to make your own form with our online form builder or download a ready-made template below.
What Is a Last Will and Testament in New York?
A Last Will gives the Testator the opportunity to distribute their estate, property and digital assets between spouses, children, partners, friends, relatives, and organizations. The Testator has the option to elect the estate's Executor. The Executor is the person - either a close friend or a professional accountant or consultant - who will be responsible for carrying out the provisions of the will.
There are several types of wills:
A Testamentary Will is a formally prepared document signed in the presence of witnesses.
A Holographic Will is a written unwitnessed will that rarely holds up in court.
An Oral Will is a spoken testament given before witnesses.
How to Write a Last Will and Testament in New York?
Every Testator is eligible to choose what to include in their will. However, several important topics are universally recommended for a Last Will and Testament.
The Testator has to take the following steps when creating their will:
Decide what property to include in a will. List significant assets and choose the ones that are to be distributed.
Decide who will inherit the aforementioned property. Alternate (contingent) beneficiaries must be mentioned in case the first choices do not survive the Testator.
Choose an executor to handle the estate. The Executor must be a person who is willing to carry out the terms of the will.
Choose a guardian for children and a caregiver for pets. This guardian must be willing to manage the children's property if the property is left to underage children or young adults.
Sign the will in front of witnesses. The Testator's signature must be notarized as well.
Store the will safely. The Testator must instruct their Executor on how to get access to the will when the time comes.
Download Last Will and Testament Template - New York