Advance Directive for Health Care Form - Alaska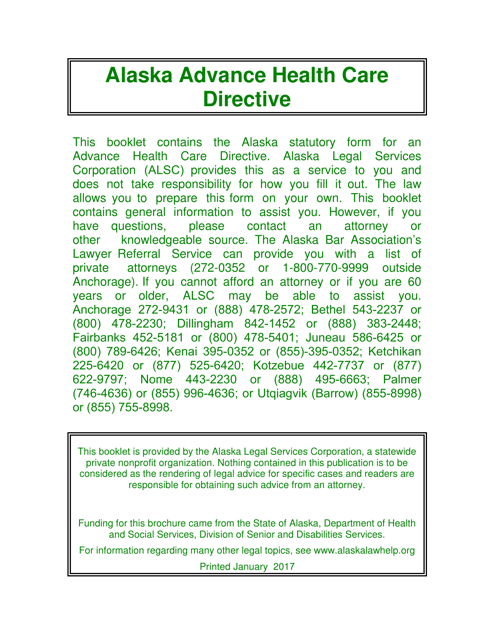 The Alaska Advance Health Care Directive released by the Alaska Department of Health and Social Services is a crucial form that allows of-age individuals to have legal control over their medical treatment in the event when they are unable to speak for themselves. Download a ready-made directive through the link below or make your own form with our customizable template.
The document provides an efficient and flexible format for planning out future health care and gives patients the option of electing a trusted individual or health professional to oversee their care. There is a difference between an Alaska Advance Directive for Health Care and an Alaska Living Will. The former are oral or written instructions about future medical care in case the individual becomes too ill to communicate. The latter is a specific type of directive that takes effect only when a patient is terminally ill.
An Alaska Advance Directive is defined by AS 13.52.010 and regulated by Chapter 52 (Health Care Decisions Act). The document may be oral or written. Any advance health care directive made in compliance with the laws of another state is valid in the state of Alaska.
What Is an Alaska Advance Directive?
An Advance Directive is a series of forms that specify an individual's medical treatment preferences and become effective if the individual becomes terminally ill, is seriously injured, in the late stages of dementia or in a coma. The document includes a Living Will and a Medical Power of Attorney - otherwise known as a health care power of attorney or a health care proxy.
Living Wills and written for health care professionals and specify the types of life-prolonging treatments or procedures to perform if the individual is in a terminal condition or in a persistent vegetative state.
A Medical Power of Attorney allows the individual to name a health care proxy to make medical decisions if they become unable to make those decisions for themselves. It is important that the designated proxy knows and understands the patient's wishes and preferences and has a written copy of the Advance Directive for health care.
How to Write an Advance Directive in Alaska?
Advance Care planning is a five-step process:
STEP 1 - Electing an agent to make health care decisions on the patient's behalf.
STEP 2 - Expressing wishes about any limitations in medical treatment - CPR, breathing machines, feeding tubes, and antibiotics.
STEP 3 - Making decisions related to organ and tissue donation and stating preferences regarding the funeral, burial and the disposition of remains.
STEP 4 - Signing, dating and witnessing the form according to the applicable Alaska law. Copies of the completed form should be handed out to the agent, the physician, the patient's family, and the health care facility.
Download Advance Directive for Health Care Form - Alaska