Living Will Form - North Dakota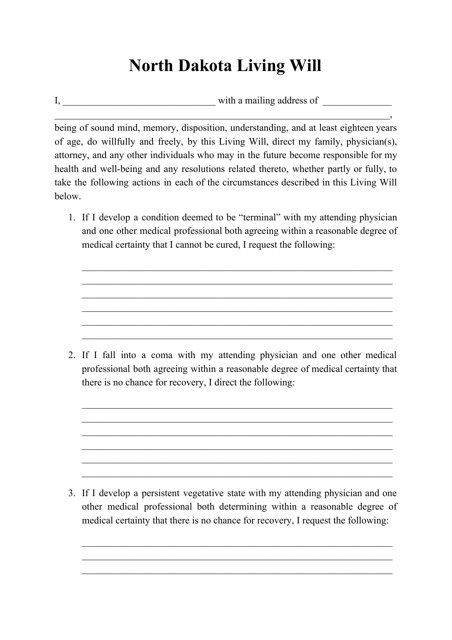 A North Dakota Living Will - sometimes confused with an Advance Directive - is a crucial part of a patient's medical records, which all too often do not indicate the appropriate palliative care measures the patient desires. Most people do not have adequate paperwork when illness strikes. In the absence of a legal will, all decisions about medical care become the responsibility of the spouse, the children, and other family members - or even a third party. These people may not be aware of the patient's wishes, or they may not choose to follow the patient's unwritten verbal directives.
Download a ready-made form by clicking the link below or make your own Living Will with our customizable template.
In most states, a person can extend their will to cover dangerous situations, like severe injuries or situations when the doctors expect the patient to remain unconscious for the rest of their life even if terminal illness or a life-threatening injury is not currently present.
A North Dakota Living Will is defined by § 23-06.5-02 and regulated by § 23-06.5-01 to § 23-06.5-19 (Health Care Directives). The document must be verified by several witnesses and is not valid if the patient is pregnant.
What Is a North Dakota Living Will?
A Living Will is a document used if a patient is for any reason unable to express their decisions and desires related to end-of-life medical care. The will comes into effect when the person is incapacitated to the point where they are no longer able to actively take part in making the decisions for their own life or are unable to direct their physician to do so.
An individual has the right to print a will with the objective to give it to the medical personnel in order to inform them about the type of care they wish to have or wish to avoid in situations of terminal illnesses or incapacitation.
How to Make a Living Will in North Dakota?
A legal Living Will form may be used in the State of North Dakota to make an individual's wishes about the medical treatment or other care they would or would not want to receive in case of an emergency known to the medical staff and their caregivers.
The individual can print out the will nominating a personal representative, establishing a party for life-sustaining consultations and specifying their wishes regarding treatment and artificially provided food and hydration.
The personal representative - or a health care proxy - is an elected agent tasked with making the important medical decisions if no other means of communication with the individual are available.
Download Living Will Form - North Dakota