North Carolina New Hire Reporting Form - North Carolina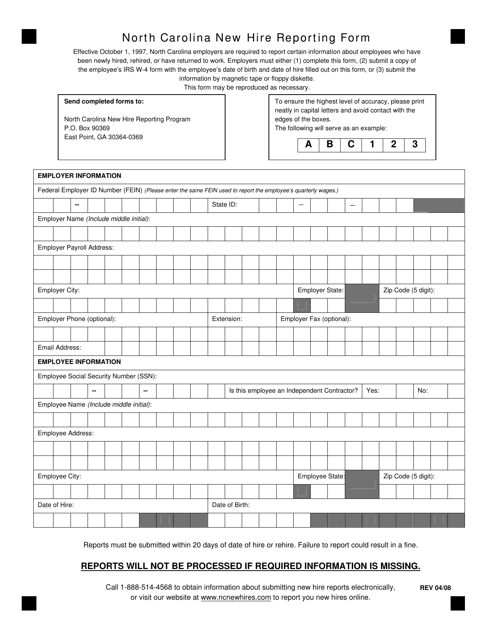 What Is a North Carolina New Hire Reporting Form?
A North Carolina New Hire Reporting Form is a document that is used by employers in the state of North Carolina to report information about their employees who have been newly hired, rehired, or have returned to work. This form must be submitted to the North Carolina New Hire Directory.
All private, public, non-profit, and government organizations are required to report their new hires, including the following:
New employees, who work in the state, including those who worked one day and were fired;

Re-hires or re-called employees, such as seasonal workers, who remain on the payroll during a break in service, and then return to work after a certain period;
Temporary employees.
This form was released by the North Carolina New Hire Directory with the latest version issued on April 1, 2008. A fillable NC New Hire Reporting Form is available for download below.
NC New Hire Reporting Instructions
This Form consists of two parts: information about an employer and an employee. The instructions for filling in an NC New Hire are the following:
Employer information:

Federal Employer ID Number (FEIN) and the state ID should be indicated. If the employer has more than one FEIN, the same FEIN used to report quarterly wages should be entered;
The employer should outline their name, payroll address, including the city, the state, and ZIP code;
Specifying the phone and fax numbers of the employer is optional;
The email address of the employer should be outlined.

Employee information:

Employee Social Security Number (SSN) should be indicated. It is necessary to clarify if the employee is an Independent Contractor or not. It is not required by the state law that independent contractors should be reported as new hires;
Enter the name of the employee (first, middle, last), their mailing address, including the city, the state, and ZIP code;
Outline the employee's date of hire and their date of birth.
When filling out the form, an applicant should carefully print in capital letters, and without going beyond the edges of the boxes. All required fields must be filled in. If some information is missing, the report will not be processed.
Employers of the North Carolina state must submit reports about their employees to a state directory within 20 days of the date of hire or rehire. The absence of such reports may result in a fine. The completed form can be sent by mail or the employer can report their new hires online.
Download North Carolina New Hire Reporting Form - North Carolina