Inmate Visitor Application - Cook County, Illinois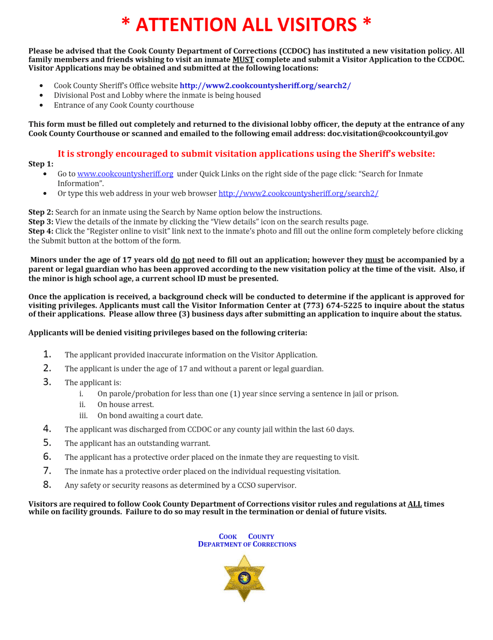 What Is a Cook County Inmate Visitation Application?
A Cook County Inmate Visitation Application is a request to visit a friend or family member who is currently an inmate in the Cook County Illinois Jail System. Since regular visits from family and friends are beneficial to the inmates, they are highly encouraged, so that the inmates can maintain ties with their loved ones. You may submit this form online using the Cook County Sheriff's Office website, or in person at the entrance of the Cook County courthouse or Divisional Post and Lobby where the inmate is situated at the moment.
You can download a fillable Cook County Visitation Application through the link below.
This form was released by the Cook County Department of Corrections which implemented a new visitation policy on , to conduct a visitor background check and to determine if the applicant is approved for visiting privileges.
Cook County Inmate Visitation Instructions
The instructions for the Cook County jail visitation application are as follows:
Date the application.
State the inmate's name, booking number, and division number.
Provide the visitor's personal details - name, alias, residential address, phone number, date and place of birth, driver's license number or state ID number, and the state that issued the document. Add your weight, height, eye color, gender, racial or ethnic group.
Specify your relationship with the inmate - family member, friend, other.
The application will be denied if the applicant provided inaccurate information, is under the age of 17 without parental supervision, on parole, probation, house arrest, or on bond. If you were discharged from the county jail within the last 60 days, have an outstanding warrant, active protective order, or the Sheriff's Office discovered other disqualifying safety or security reasons, the visiting privileges will be denied.
Download Inmate Visitor Application - Cook County, Illinois