Form MC-005 Credit Card Fax Cover Sheet - California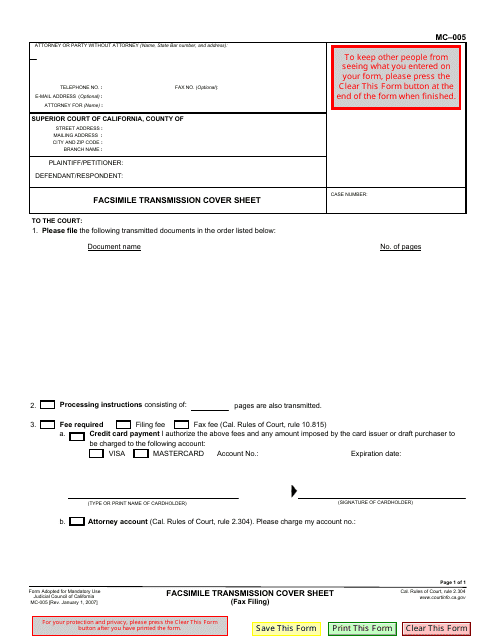 Fill PDF Online
Fill out online for free
without registration or credit card
What Is Form MC-005?
Form MC-005, Facsimile Transmission Cover Sheet (Fax Filing) , is a legal document used by participants of legal proceedings (defendants, respondents, attorneys, etc.) to file documents of a civil case with the California court clerk by fax. When transmitting documents to the court registry, your documentation must be covered by the California Court Form MC-005 and you must pay the required filing fee (an additional $0.75 per page and a $4.50 fax-filing fee).
This form was issued by the California Superior Court with the latest version of the form released on January 1, 2007 , with all previous editions obsolete. You can download a fillable Form MC-005 through the link below.
MC-005 Processing Instructions
Provide the following information on Form MC-005:
Enter your full name, address, and telephone number at the top of the form. The fax number is optional, but it might be easier for you to file documentation by fax and receive information from the court the exact same way. Attorneys are also required to write down their California State Bar numbers and the name of the individual they represent.
Add information regarding the Superior Court of California you submit the documents to - indicate the county, street and mailing addresses, and the name of the branch.
State the names of the plaintiff/petitioner and the defendant/respondent. Record the case number.
List the documents you are filing. You are required to file them in the order you listed them on the sheet. Write down the number of pages for each of the documents. You may file any pleadings and documents that may be submitted to the court. Retain signed copies of the documents during the pendency of the action. However, you cannot send documents that require an oath or affirmation, criminal complaints and summonses, and various requests and petitions pertaining to restraining orders.
If you choose to attach the processing instructions, write down the number of pages.
If the filing and/or fax fee is required, check the appropriate box. Authorize the credit card payment and provide the details of your account. If the attorney submits the documentation, it is allowed to charge the attorney's account. The cardholder must sign the form.
Once you fill out the California Court Form MC-005, write "By Fax" next to your signatures on all the forms you are filing. File the transmission sheet with all the documents to the correct courthouse. Fax filings are accepted anytime, but they will be processed during the normal working hours of the court clerk if the documentation is complete, legible, and accompanied by the required fax cover sheet. When the court receives your fax, you will get confirmation of acceptance or refusal sent by mail or fax and your credit card will be charged for a fee.
Download Form MC-005 Credit Card Fax Cover Sheet - California