How to Make Your Own Hand Sanitizer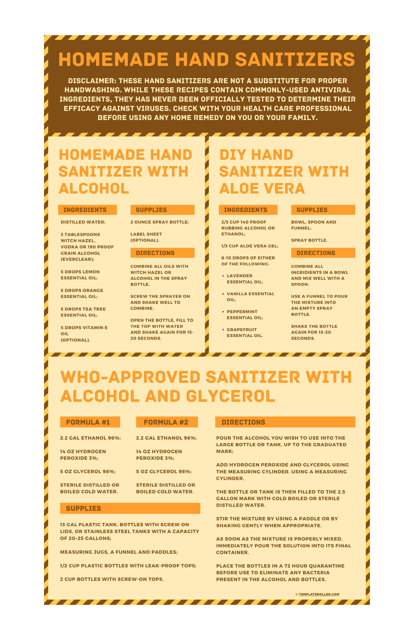 Fill PDF Online
Fill out online for free
without registration or credit card
With everything going on in the world the use of proper hygiene and health safety measures has never been of greater necessity. But what to do if your local stores run out of the basic supplies, like masks or handrub? We have compiled three recipes for DIY hand sanitizer for any of your health or hygiene needs.
Download the guide in PDF (all measurements and additional tips can be found below the infographic) and be sure to check out our article on how to make your own medical face mask.
Hand Washing Vs. Hand Sanitizer
While having your own hand sanitizer can certainly help in these trying times, is it any better than washing your hands? Many experts state that while having hand sanitizer available in daily use situations is helpful, hand washing is the tried and true method of preventing illness and infection. It takes twenty seconds of washing your hands with soap and water to fully rid your skin of any harmful bacteria and virus cells.
Whatever you end up using, it is best to be thorough when cleaning hands or surfaces and to use the utmost care if you come into contact with any potential contamination.
Visit the WHO website for more information on the best ways to say healthy and safe.
How to Make Homemade Hand Sanitizer?
DISCLAIMER: These DIY formulas are not a substitute for washing your hands. While these home remedies contain commonly-accepted natural antiviral ingredients, they have never been scientifically tested to determine their effectiveness against viruses or bacteria.
Homemade Hand Sanitizer With Alcohol
This is a classic formula that calls for ingredients that most people have on hand. These include:
Spray bottle of your choice;
5 drops of lemon, orange, and tea tree essential oils;
Witch hazel, vodka, or 190 proof grain alcohol (the finished mixture must contain no less than 70% alcohol);
Distilled (or filtered, boiled, and cooled) water;
5 drops Vitamin E oil (optional, to make skin softer).
Instructions:
Mix Vitamin E oil and essential oils with alcohol directly in the spray bottle.
Screw the spray bottle cap on tightly and shake well for up to 20 seconds to fully incorporate all ingredients.
Unscrew the cap again and fill the bottle to the top with distilled or filtered water. Replace the top and shake again for 20 seconds.
DIY Hand Sanitizer With Aloe Vera
This is a spray-on sanitizer with aloe vera, which is perfect for dryer skin. You will need:
1/4 cup aloe vera gel;
3/4 cup 99% rubbing alcohol or ethanol (the finished mixture must contain no less than 70% alcohol);
8-10 drops of mint, citrus, lavender or vanilla essential oil (optional, for aroma);
Bowl, spoon, and funnel;
An empty bottle left over from hand sanitizer or liquid soap.
Instructions:
Combine the ingredients in a bowl, stirring continuously with a spoon until properly mixed.
Use the funnel to pour the liquid into the empty bottle.
DIY Hand Sanitizer With Alcohol and Glycerol
This is a WHO-recommended formula that's perfect for making larger batches of hand sanitizer. There are two formulas you can use depending on the type of alcohol you decide to use.
First Formula:
2.2-gallon 96% ethanol;
14 oz 3% hydrogen peroxide;
5 oz 98% glycerol;
Distilled or boiled water (cold).
Second Formula:
2-gallon 99.8% isopropyl alcohol;
14 oz 3% hydrogen peroxide;
5 oz 98% glycerol;
Distilled or boiled water (cold).
Supplies:
13-gallon polypropylene or high-density polyethylene tank (preferably translucent), or;
2.5-gallon bottles with screw-on lids, or;
20-25-gallon stainless steel tanks;
A metal or plastic funnel, measuring jugs, and paddles for mixing;
1/2 cup plastic bottles with leak-proof tops;
2 cup plastic or glass bottles with screw-on tops;
An alcoholometer.
Instructions:
Combine alcohol with hydrogen peroxide in the large bottle or tank.
Stir in the correct amount of glycerol. Warning: glycerol is a very sticky substance that's hard to get off of surfaces. Rinse cylinders with clean water to catch any remaining glycerol and then empty back into the large bottle or tank.
Fill your bottle or tank to the 2.5-gallon mark with distilled or boiled water.
Close the bottle or tank as soon as possible after combining all ingredients in order to prevent the mixture from evaporating.
Stir the mixture by using a paddle or by shaking gently (if appropriate).
As soon as the mixture is properly mixed, pour the solution into the containers that you wish to store the handrub in.
Keep the bottles in a 72-hour quarantine before use. Leaving the mixture be for three days allows time for any bacteria present on the surface to be completely eliminated.
Download How to Make Your Own Hand Sanitizer