Goods and Services Tax / Harmonized Sales Tax (Gst / Hst) Return Working Copy - Canada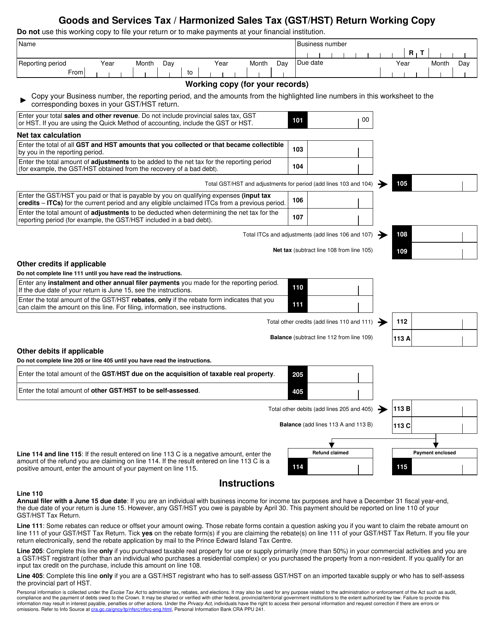 Fill PDF Online
Fill out online for free
without registration or credit card
Goods and Services Tax/Harmonized Sales Tax (GST/HST) Return Working Copy is the document small business owners will need to complete as part of their taxes.
Alternate Names:
GST Remittance Form;
GST Return Form.
The GST Return Form is issued by the Canadian Revenue Agency (CRA). A fillable GST Return Form is available for download through the link below.
GST Remittance Form Instructions
When completing a GST Remittance Form will want to follow these steps to calculate your return:
Provide your name, business number, the date the form is due, and the period of time you are reporting.
Enter the totals for revenue (from sales and otherwise), not including sales tax or GST/HST.
Enter the totals for GST/HST accumulated from your business sales and income, and any adjustments necessary (such as calculating in company debt). Add these two totals together to determine your total GST/HST.
Any business expenses accumulated during this period where you paid GST/HST on the items or services, plus any additional tax credits that went unclaimed from the previous return. This will determine the total amount of net tax accumulated during this filing period. You will subtract these amounts from your current GST/HST total.
Detail any other rebates or installment plans that you are currently making contributions to. Then input these items in the next section to calculate your balance. You will then subtract this amount from the remaining GST/HST total.
Insert any remaining debits in the final section, such as taxes for real property or from a GST/HST self-assessment (if applicable for your organization or business). Subtract the total of these final debits from the GST/HST total once more which will determine if you should expect to receive a refund (negative total) or will be enclosing a payment (positive total).
Download Goods and Services Tax / Harmonized Sales Tax (Gst / Hst) Return Working Copy - Canada