Form EEA(FM) Application for a Registration Certificate or Residence Card as the Family Member of a European Economic Area (Eea) or Swiss National - United Kingdom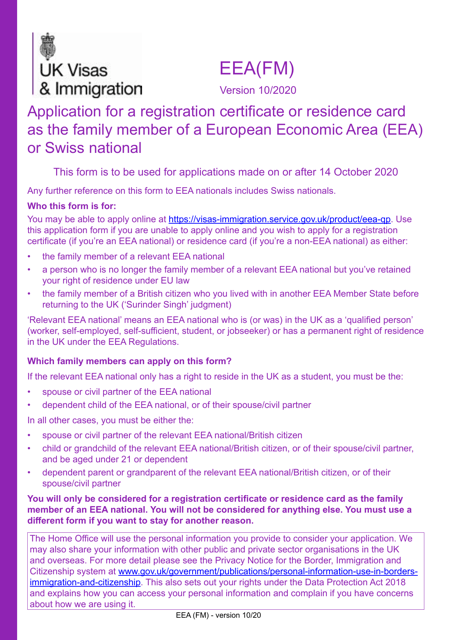 Fill PDF Online
Fill out online for free
without registration or credit card
What Is Form EEA (FM)?
Form EEA (FM), Application for a Registration Certificate or Residence Card as the Family Member of a European Economic Area (EEA) or Swiss National, is a document that individuals could use to apply for a residence card or a registration certificate in the United Kingdom. The purpose of the form was to provide EEA nationals and Swiss nationals with a legal document that could allow them to reside in the United Kingdom.
Alternate Name:
This form was issued by United Kingdom Visas and Immigration and was last revised on October 1, 2020. Form EEA (FM) is no longer in use as of January 1, 2021. Individuals should now apply to the European Union Settlement Scheme or apply for a United Kingdom Visa instead. A printable Form EEA (FM) is available for download through the link below for reference.
Form EEA (FM) Instructions
The EEA(FM) Form is a relatively complex 100-page long document. Collecting information and completing it can take a lot of time since there is a large number of details the applicants are required to provide. Some of the most important parts include:
Instructions. In the first part of the document, applicants are provided with information about who can use this form. Here, they can also find details about fees that are supposed to be paid with the application and how to pay them, biometric information guidelines, where to submit the form, and other details.
Applicant's Details. Here, applicants can designate their full name, date of birth, gender, relationship status, and other types of personal details. Additionally, they can provide their contact information and passport (national identity card) details.
Personal History. If the applicant was ever convicted or had any civil judgments (or civil penalties) against them or their family members, they were required to describe them here.
Documents and Evidence. Here, applicants are provided with the list of documents they must attach to their application. Failing to do it could cause the application to be invalid or denied.
Download Form EEA(FM) Application for a Registration Certificate or Residence Card as the Family Member of a European Economic Area (Eea) or Swiss National - United Kingdom