Form FLR(M) Extend Your Stay in the UK as a Partner or Dependent Child - United Kingdom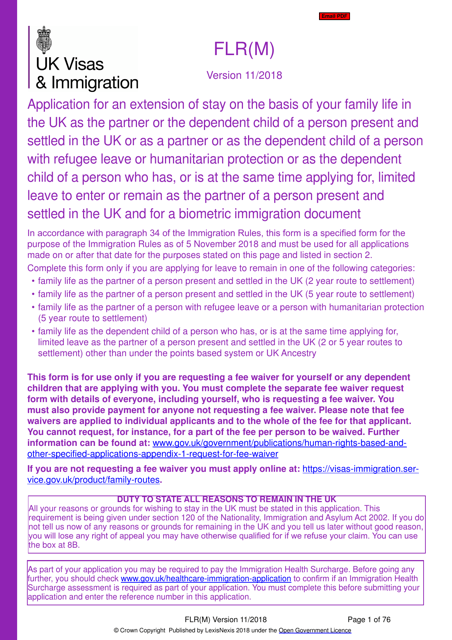 What Is Form FLR (M)?
Form FLR (M), Extend Your Stay in the UK as a Partner or Dependent Child, is an application that was prepared by partners and dependent children of British citizens, people settled in the United Kingdom, refugees, and individuals under humanitarian protection to extend their own stay in the country.
Alternate Name:
This form was issued by United Kingdom Visas and Immigration and the latest version of the document was released on November 1, 2018. Form FLR (M) is filed online with the printable document no longer in use - you can download a copy of the form through the link below for reference only.
Form FLR (M) Instructions
Here is what information was requested from applicants in the past - now these details can be submitted when you fill out FLR (M) Form online:
A fee waiver for individuals unable to pay the required fee.
The applicant's personal information (their name, title, gender, date and place of birth, marital status, nationality, and National Insurance Number).
Contact information applicant.
The category under which the applicant was submitting their paperwork.
The sponsor's personal information (i.e., the spouse, partner, or parent already residing in the United Kingdom).
List of dependent children who applied with the applicant.
Immigration history (how and when the applicant arrived in the United Kingdom in the first place and the circumstances under which that happened).
A brief description of the applicant's relationship to their sponsor.
Evidence of complying with the financial requirements. The applicant is asked to confirm their income from wages, self-employment, benefits, pensions, and savings.
A breakdown of the applicant's future accommodation and maintenance plans.
Proof of sufficient English language proficiency.
Consent to share biometric residence permit information.
The applicant's criminal history (including any civil penalties, court judgments, and type of penalty).
Verification of identity (i.e., the original identification document).
Certification of documentation attached to the application.
Consent to possible verification checks.
Download Form FLR(M) Extend Your Stay in the UK as a Partner or Dependent Child - United Kingdom